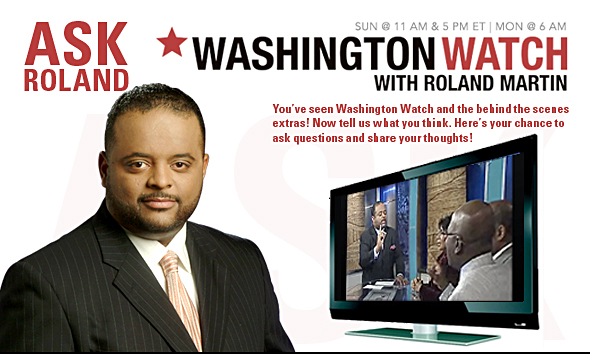 Roland Martin goes on-air each Sunday on Washington Watch, but he's online every day so send him questions about whatever it is you want to know. Want to discuss politics? President Obama? Race? Here's the place to do it and don't be surprised if your comment ends up ON-AIR.
Fill out the comment section below to leave your thoughts. And don't forget to let us know where your from (city/state).
If you have uploaded a question for Roland to YouTube, please place the link in the comment section below.
Sphere: Related Content
Related Posts
Rep. Clyburn Pushes The Clyburn Amendment To Help
WASHINGTON WATCH ROUNDTABLE: New Jobs Numbers, Black Unemployment,
Perspective: Are You Running Free Or Are You
The Biggest Damn Lie: Fox News Contradicts Fox
WASHINGTON WATCH: New Study Finds Black Women Are
WASHINGTON WATCH: The Importance Of Arts Education (VIDEO)
WASHINGTON WATCH: Getting More African-Americans Behind The Scenes
WASHINGTON WATCH: How Can We Stop The Spread
WASHINGTON WATCH: Bad Reviews For Reality TV's Portrayal
Perspective: At The Table Of Brotherhood, Discussing Differences