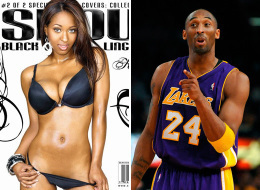 Kobe Bryant is promoting a party thrown by Show Magazine during the upcoming All-Star Weekend in Dallas, according to an article at TMZ.
The web site reports that Bryant graces the party's promotional posters, which promise that girls who have appeared in the magazine will attend the party in "sexy outfits." (Scroll down to see pictures from the magazine.) It is unclear whether Bryant will play in the All-Star Game, as he is currently nursing a sore left ankle.
Bryant was accused of sexually assaulting a 19-year-old in 2003, but the charges were ultimately dismissed. Afterwards, Bryant issued an apology, writing that "although I truly believe this encounter between us was consensual, I recognize now that she did not and does not view this incident the same way I did."
If reports of the party are true, it is the second time in recent weeks that some have questioned his marketing choices. In January, he appeared in a gun-themed Nike ad, boasting that "I don't leave anything in the chamber" just days after two NBA players were suspended for the rest of the season for gun crimes.
To read this article in its entirety visit The Huffington Post.
Sphere: Related Content
Related Posts
NBA Cancels First 2 Weeks Of Season (VIDEO)
ESPN Pulls Hank Williams Jr From Tonight's Monday
Ready For Some Controversy: Hank Williams Compares Golf
Manny Ramirez Arrested For Domestic Violence
Sources: Michael Jordan Fined $100K By NBA For
Serena Williams Loses Cool, Title To Stosur (VIDEO)
Oscar De La Hoya Admits Drag Photos Are
Southeastern Conference Accepts Texas A&M With Condition
Football Hall Of Famer Lee Roy Selmon Dies
Chris Johnson, Titans Reach 4-Year, $53.5M Deal (VIDEO)