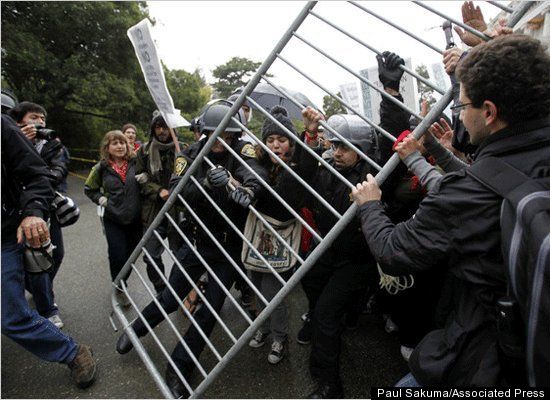 Rowdy protesters blocked major gates at two California universities and smashed the windows of a car Thursday amid campus protests across the nation against deep cuts in education funding.
University provost David Kliger said there were reports of protesters carrying clubs and knives, but Clark could not confirm those reports.
No arrests had been made at the school.
An advisory posted on its Web site urged people to avoid the campus because of safety concerns. It also said protesters had photographed the license plate of a staff member trying to enter the campus.
To read this article in its entirety visit The Huffington Post.
Sphere: Related Content
Related Posts
Students Allegedly Showed Up Drunk For First Day
Texas A&M System To Pay Professors Based On
Obama Warns Of 'Massive Layoffs Of Teachers, Police,
Wall Street Reform: Progressive Dems Glimpse Victory
Arizona Ethnic Studies Classes Banned, Teachers With Accents
Student Loan Overhaul Taking Filibuster-Proof Route To Overcome
Day Of Action Dawns With Excitement; Protests Underway
California readies for Student Day of Action
Shutdown Averted Again: Congress Passes Temporary Government Funding
7-Year-Old Girl Gets Alcohol Poisoning From Drinking Hand