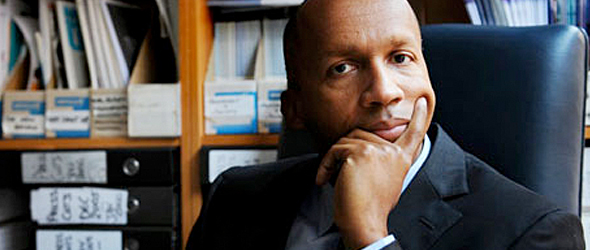 Roland Martin talks with Bryan Stevenson, the founder and Executive Director of the Equal Justice Initiative (EJI) about racial discrimination in jury selection. Stevenson explains that racial discrimination is a problem all over the country, but is particularly egregious in the deep South.
According to an EJI study release on June 1, 2010, eight southern states, Alabama, Arkansas, Florida, Georgia, Louisiana, Mississippi, South Carolina, and Tennessee found that 80 – 90%  of African-Americans are qualified for jury service are being excluded by prosecutors. There are cases where minority defendants are being tried by all white juries in predominantly black counties.
In order to prohibit this, Congress passed a law in 1875 which made it illegal to exclude people on the basis of race from serving on juries. The Justice Department is required to enforce this law but has not.
For more information about the EJI report visit http://www.eji.org
Audio clip: Adobe Flash Player (version 9 or above) is required to play this audio clip. Download the latest version here. You also need to have JavaScript enabled in your browser.
Sphere: Related Content
Related Posts
Roland, TJMS, 07.23.10: Roland S. Martin/Tom Joyner Morning
Roland, TJMS, 07.06.10: Roland S. Martin/Tom Joyner Morning
Roland, TJMS, 09.15.11: Roland S. Martin/Tom Joyner Morning
Roland, TJMS, 05.24.11: Roland S. Martin/Tom Joyner Morning
Roland, TJMS, 01.05.11: Roland S. Martin/Tom Joyner Morning
Roland, TJMS, 10.26.10: Roland S. Martin/Tom Joyner Morning
Roland, TJMS, 10.21.10: Roland S. Martin/Tom Joyner Morning
Roland, TJMS, 10.18.10: Roland S. Martin/Tom Joyner Morning
Roland, TJMS, 10.11.10: Roland S. Martin/Tom Joyner Morning
Roland, TJMS, 10.06.10: Roland S. Martin/Tom Joyner Morning