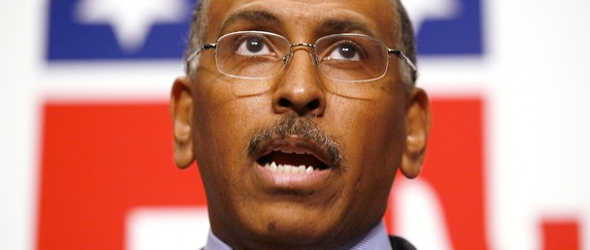 Source: Nick Wing / The Huffington Post
Republican National Committee Chairman Michael Steele expressed an unusual interpretation of the relationship between Barack Obama and the war in Afghanistan at a Connecticut fundraiser Thursday.
"This was a war of Obama's choosing," Michael Steele said at the event. "This is not something the United States has actively prosecuted or wanted to engage in."
Steele also accused Obama of "demonizing Iraq while saying the battle really should be in Afghanistan."
"Well, if he's such a student of history, has he not understood that, you know, that's the one thing you don't do is engage in a land war in Afghanistan, alright, because everyone who's tried over a thousand years of history has failed," Steele continued.
Steele had this to say about the General McChrystal incident, "The [General] McChrystal incident, to me, was very comical," he said. "I think it's a reflection of the frustration that a lot of our military leaders has with this Administration and their prosecution of the war in Afghanistan."
To read this article in its entirety visit The Huffington Post.
WATCH: Michael Steele's comments about President Obama and the war in Afghanistan.
Sphere: Related Content
Related Posts
Obama Denounces Planned Quran Burning, Warns Of Fallout
Republican Governors Anti-Obama Ad Borrows Political Terrorism Theme
Sarah Palin's Boston Tea Party Speech: Obama Agenda
(VIDEO) Obama Calls Out Limbaugh, Beck: 'Troublesome'
Bill Clinton: GOP Argument On Taxing Wealthy Americans
James Carville To White House: Panic (VIDEO)
President Obama To Submit His Jobs Plan To
9/11 Attacks Led To Half-Trillion-Dollar Homeland Security Spending
President Obama To Unveil $300 Billion Jobs Plan
Fox News' Gretchen Carlson, Debbie Wasserman Schultz Argue