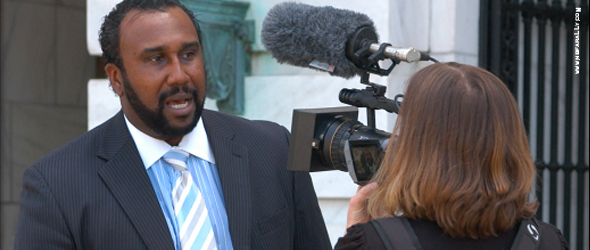 Roland Martin talks with John Boyd President of the National Black Farmers Association about the $1.2 billion settlement for the Black farmers. The bill was passed and is now attached to the war bill as a rider.
Boyd explains that people should contact Senate Minority Leader, Mitch McConnel to voice their support for the bill. Boyd went on to say, "… the Republicans should not play politics with peoples lives…" Boyd is hopeful that the funds for the Black farmers will not be stripped from the war bill. The bill passed in the House but now the bill needs to be passed in the Senate. If it is not passed in the Senate, the Black farmers will not receive their compensation.
Call your United States senator and voice your support for the war bill in order to help the Black farmers.
Audio clip: Adobe Flash Player (version 9 or above) is required to play this audio clip. Download the latest version here. You also need to have JavaScript enabled in your browser.
Sphere: Related Content
Related Posts
Roland, TJMS, 06.17.10: Roland S. Martin/Tom Joyner Morning
Roland, TJMS, 04.27.10: Roland S. Martin/Tom Joyner Morning
Roland S. Martin/Tom Joyner Morning Show, Roland talks
Roland, TJMS, 03.30.10: Roland S. Martin/Tom Joyner Morning
Roland, TJMS, 03.11.10: Roland S. Martin/Tom Joyner Morning
Roland, TJMS, 08.12.10: Roland S. Martin/Tom Joyner Morning
Roland, TJMS, 08.10.10: Roland S. Martin/Tom Joyner Morning
Roland, TJMS, 08.02.10: Roland S. Martin/Tom Joyner Morning
Roland, TJMS, 07.23.10: Roland S. Martin/Tom Joyner Morning
Roland, TJMS, 07.15.10: Roland S. Martin/Tom Joyner Morning