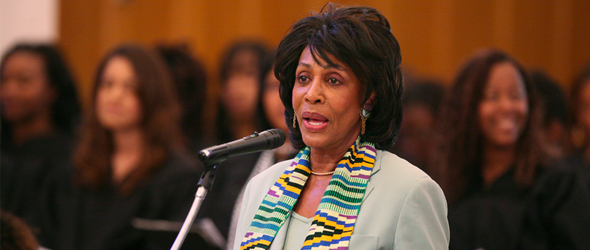 Roland Martin talks with Congresswoman Maxine Waters about the Wall Street Reform bill, which contains provisions to help small businesses and African-Americans. One of the things that Congresswoman Waters fought for was the Office of Minority and Women Inclusion.
Despite the amount of federal stimulus funds available, women and minority owned firms where largely over looked for contracting opportunities. To combat this, Waters created the Office of Minority and Women Inclusion. This is an amendment that says each of the federal regulatory agencies must have an office that is dedicated to diversity and including minorities and women.
It is mandated with the responsibility to open up opportunities to increase employment, contracting opportunities and to recommend the dismissal of firms that do not include minorities.  Waters goes on to say, "It's time for some real affirmative action …"
Roland asks Congresswoman Waters about the African-American foreclosure rate. 50 percent of African-American wealth is likely to be wiped out as a result of foreclosures in this country. Waters explains that she created the Neighborhood Stabilization Program, which helps rehabilitate homes that have been foreclosed and put them back on the market for low and moderate-income people. In addition to that, Waters created the HAMP Program (Home Affordable Modification Program) that helps unemployed homeowners. This program provides low interest rate loans to help them pay their mortgages.
Audio clip: Adobe Flash Player (version 9 or above) is required to play this audio clip. Download the latest version here. You also need to have JavaScript enabled in your browser.
Sphere: Related Content
Related Posts
Roland, TJMS, 07.15.10: Roland S. Martin/Tom Joyner Morning
Roland, TJMS, 07.14.10: Roland S. Martin/Tom Joyner Morning
Roland, TJMS, 07.13.10: Roland S. Martin/Tom Joyner Morning
Roland, TJMS, 06.30.10: Roland S. Martin/Tom Joyner Morning
Roland, TJMS, 06.30.10: Roland S. Martin/Tom Joyner Morning
Roland, TJMS, 06.28.10: Roland S. Martin/Tom Joyner Morning
Roland, TJMS, 06.18.10: Roland S. Martin/Tom Joyner Morning
Roland, TJMS, 04.16.10: Roland S. Martin/Tom Joyner Morning
Roland, TJMS, 03.30.10: Roland S. Martin/Tom Joyner Morning
Roland, TJMS, 03.24.10: Roland S. Martin/Tom Joyner Morning