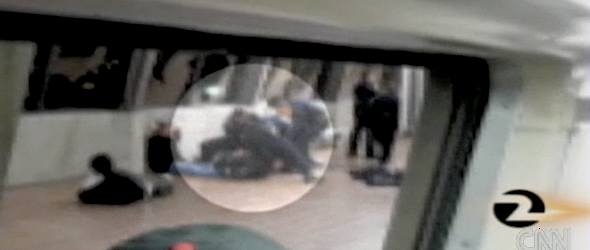 Roland Martin talks with Bob Butler of KBCS Radio about the BART shooting verdict. A white police officer, Johannes Mehserle, testified that he mistakenly drew a pistol instead of his taser and shot Oscar Grant. Mehserle was convicted of involuntary manslaughter.
Butler details the events in the streets of Oakland after the verdict was released. Butler said, "as people started gathering, you saw these people walk up, dressed all in black and had bandanas on their faces and they were wearing hoods." Butler states that he identified them as the Anarchist, also known as Black Bloc. Butler explained that they are the ones who usually cause trouble. Butler said, "… they caused trouble back in 2009, and as the sun went down last night, the same thing happened."
Butler explains that there were people looting a Footlocker store. He questioned some of the looters who felt that it was OK because they were doing it for Oscar Grant.
Audio clip: Adobe Flash Player (version 9 or above) is required to play this audio clip. Download the latest version here. You also need to have JavaScript enabled in your browser.
Sphere: Related Content
Related Posts
Roland, TJMS, 07.07.10: Roland S. Martin/Tom Joyner Morning
Roland, TJMS, 04.27.10: Roland S. Martin/Tom Joyner Morning
Roland S. Martin/Tom Joyner Morning Show, Roland talks
Roland, TJMS, 03.30.10: Roland S. Martin/Tom Joyner Morning
Roland, TJMS, 03.11.10: Roland S. Martin/Tom Joyner Morning
Roland, TJMS, 08.12.10: Roland S. Martin/Tom Joyner Morning
Roland, TJMS, 08.10.10: Roland S. Martin/Tom Joyner Morning
Roland, TJMS, 08.02.10: Roland S. Martin/Tom Joyner Morning
Roland, TJMS, 07.23.10: Roland S. Martin/Tom Joyner Morning
Roland, TJMS, 07.15.10: Roland S. Martin/Tom Joyner Morning