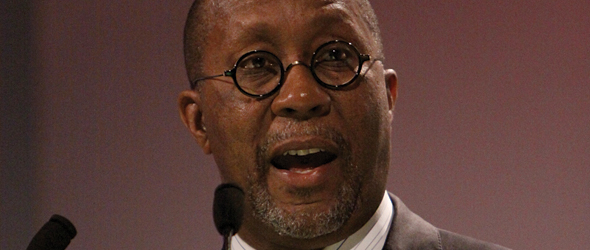 Roland Martin talks with US Trade Rep. Ambassador Ron Kirk about the African Growth and Opportunities Act Forum that is taking place in Washington DC and Kansas City this week.
Prior to discussing the AGOA Forum, Roland and Ron Kirk discuss a recent auto accident that Kirk is recovering from. Kirk said that he is doing well and is exceptionally blessed. A 10' ladder hit Kirk after it crashed through his windshield, impaling his left arm.
Roland and Kirk go on to discuss the African Growth and Opportunities Act Forum. Kirk said there are 35 trade ministers, ambassadors, government officials from 35 sub-Saharan African countries that have gathered for the 10th anniversary forum. This partnership started under President Clinton with the passage of the AGOA Act.
"… we are trying to transform this relationship … from a historic paternalistic aid based relationship to one that's based on mutual economic interest", Kirk explained, "by every measure this has been a huge success, as our trade with Africa has quadrupled to over $60 billion dollars".
According to Kirk, Africa is a continent with over 700 million people and a $2 trillion economy. Comparing these numbers to the amount of trade that transpires between the US and Africa, Kirk said "… that really is nothing".
Kirk stated, "One of our challenges is how we take this to the next level, the next decade and increase opportunities for businesses in both Africa and the United States".
For more information visit http://www.ustr.gov
Audio clip: Adobe Flash Player (version 9 or above) is required to play this audio clip. Download the latest version here. You also need to have JavaScript enabled in your browser.
Sphere: Related Content
Related Posts
Roland, TJMS, 06.17.10: Roland S. Martin/Tom Joyner Morning
Roland, TJMS, 07.07.10: Roland S. Martin/Tom Joyner Morning
Roland, TJMS, 06.23.10: Roland S. Martin/Tom Joyner Morning
Roland, TJMS, 04.27.10: Roland S. Martin/Tom Joyner Morning
Roland S. Martin/Tom Joyner Morning Show, Roland talks
Roland, TJMS, 04.05.10: Roland S. Martin/Tom Joyner Morning
Roland, TJMS, 03.30.10: Roland S. Martin/Tom Joyner Morning
Roland, TJMS, 03.11.10: Roland S. Martin/Tom Joyner Morning
Roland, TJMS, 02.16.10: Roland S. Martin/Tom Joyner Morning
Roland, TJMS, 01.14.10: Roland S. Martin talks with