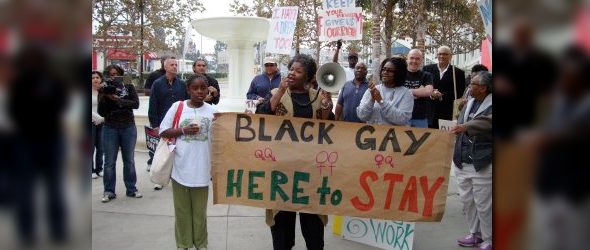 Roland Martin talks with Sharon Lettman, Executive Director of the National Black Justice Coalition about Proposition 8 being overturned.
Sharon Lettman said the next step in the fight for gay marriage is to make sure that the state of California fully resumes marriage equality. Lettman expressed that their opponents will take this fight to the next level of the courts and said, "This is going to be a national debate for years to come".
Roland asks Lettman, what does she think the conversation will be in the Black community where same sex marriage is highly opposed? Lettman responded by saying, "The reality is marriage, the fluidity of the Black family, needs to be a conversation, period". She also said, "What has to be recognized is that gay and lesbian rights as African-Americans needs to become an inclusive part of the African-American conversation".
"Overall marriage equality can build stronger Black families. All of the rhetoric that is out there about gays and lesbians, about people not being honest and true [to] who they are; here we have a community, our community, my continuance that say we want to be whole". Lettman said, "We want to be a whole part of society by being open and honest and telling you we are in committed relationships can only build safer, more aware and respectable union within our community".
Audio clip: Adobe Flash Player (version 9 or above) is required to play this audio clip. Download the latest version here. You also need to have JavaScript enabled in your browser.
Sphere: Related Content
Related Posts
Roland, TJMS, 08.02.10: Roland S. Martin/Tom Joyner Morning
Roland, TJMS, 07.23.10: Roland S. Martin/Tom Joyner Morning
Roland, TJMS, 07.16.10: Roland S. Martin/Tom Joyner Morning
Roland, TJMS, 07.15.10: Roland S. Martin/Tom Joyner Morning
Roland, TJMS, 07.14.10: Roland S. Martin/Tom Joyner Morning
Roland, TJMS, 07.13.10: Roland S. Martin/Tom Joyner Morning
Roland, TJMS, 06.17.10: Roland S. Martin/Tom Joyner Morning
Roland, TJMS, 07.08.10: Roland S. Martin/Tom Joyner Morning
Roland, TJMS, 07.07.10: Roland S. Martin/Tom Joyner Morning
Roland, TJMS, 07.01.10: Roland S. Martin/Tom Joyner Morning