Rev. James Meeks
Ephesians 5:21-28
The Main Ingredient
There are some crucial ingredients to making certain foods.
As we examine a Christian marriage, the main ingredient is a husband loving his wife.
Marriage can be complete and sweet without a new house; a new car; a lot of money; furniture; a big wedding – Meeks' parents have been married 63 years and got married on their lunch break at the courthouse, and after, his daddy went back to work; without children.
But marriage cannot have harmony, joy and happiness without a husband's love.
It is a husband's love that can fix 80% of the trouble in most marriages. Not a psychologist or counselor.
Paul first gives instructions to wives. He uses 11 words while instructing wives.
When given instructions to husbands, he uses 133 words. He said 12 words to husbands to every 1 word to a wife. Whatever a wife does in a marriage, a husband is to do 12 times as much.
The one thing no marriage can survive without is a husband's love.
There is a difference between the way the world loves and the way Paul speaks of in Ephesians.
Worldly loves loves as long as it's in the person's best interest; as it's convenient; as long as you are still pretty; arouse me; acting the way I want you to act; characteristics; and can only be fickle as best. Because as soon as a person loses a positive characteristic or it is no longer appealing, love based on characteristics also disappears.
Our definition of love is weak and based on lust.
Men, we are supposed to love our wives to death because Jesus loved the church the same way.
We are supposed to be willing to give up our own lives if it means saving our wives.
1. Love is sacrificial. To love like Jesus says, whatever is best for the one I love, whereever I have to go, and whatever I have to give up, if it will get my wife to where she is trying to go and fulfill her potential, I am willing to deny myself so my wife can reach her full potential.
Love has nothing to do with that woman acting the way you want her to act; whether or not she deserves it. Real love loves when the recipient does not really deserve it. Romans 5:8.
Sacrificial love never says me first. It says you are first, even if it costs me my life.
Women have no problem submitting to a man like that.
2. A husband should have purifying love. Ephesians 5:26.
The work of Jesus didn't stop at the cross. Now he is fixing us up. We are better now than before we became Christians. When Jesus saved us, he didn't leave us to sanctify ourselves. If I love enough to die for me, do you love me enough to live for me?
It is the married man's responsibility to help our wives reach their full potential. If your wife has spots and wrinkles, you need to go into the spot removal business.
That is why pornography is so bad. You look at a woman who has no spots or no wrinkles. She has been airbrushed. Every clip on the Net or TV has been edited. Here is a woman making absolutely no demands on you. Then you face your wife, who can live up to the unrealistic fantasies you have created in your mind.
With pornography, you're taking all of your emotions and affections out of your house.
Whatever your wife's weaknesses are, you have to love her in and through that weakness.
Men, if you don't like what your wife is wearing, buy her some new clothes. And ladies, if you don't like what he wants you to wear, ask yourself who you are dressing for; him or your boss?
Men, stop fussing because all of your wife runs the gas out of the car.
Men, all of a wife's weaknesses are your fault. Why? Because you haven't figured them out yet. You are going to love her out of her weaknesses.
When we lift our hands in praise, it's nice that Jesus doesn't say, "you are too fat. You need new clothes. I don't like your hair. You smell like sin." When we become before him, we can come just as we are.
Every man who isn't loving his wife this way, he isn't loving her right.
3. You have to have a caring love.
If you say you have no examples of this, Paul answered that: love her like you love yourself.
Men, you have spots, wrinkles and shortcomings, and you aren't getting ready to divorce yourself. When it comes to our wives fault, we want her to get it together or else. But when it comes to our faults, you want everyone to understand and for you to be patient. When is the last time you cussed yourself out? When is the last time you said how dumb you were? When was the last time you hated yourself?
If you put yourself in a nice car, put her in a nice car.
Take care of her like you take care of you.
To nourish your wife means to provide for her needs. Your wife should be able to quote the Scripture, "My husband supplies all my needs."
Men need to use tender love and physical affection.
Comfort, warmth, protection, and security.
She shouldn't get stuff from you that makes her feel bad.
Jesus comforts me, I don't comfort him. I'm safe in his arms. He isn't safe in my arms.
If I love Him, He loves me more than that. If I'm kind to Him, He's kinder. If I'm nice, He's nicer.
You are to cleave to her. You don't take your mom's side over your wife. 1 Peter 3:7: "Likewise, ye husbands, dwell with them according to knowledge, giving honour unto the wife, as unto the weaker vessel, and as being heirs together of the grace of life; that your prayers be not hindered."
Men, if you mistreat your wife, heaven shuts up on you.
The Bible says God will not answer the prayers of a man who mistreats his wife.
If you want your prayers answered, love her sacrificially.
And no woman will have difficulty submitting herself to a man who loves her like this.
Sphere: Related Content
Related Posts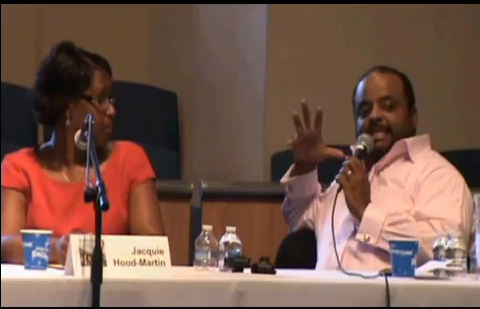 On Sunday, July 17, 2011, the Rev. Dr. Christopher A. Bullock and First Lady Dr. Debbie Bullock and the Canaan ...
READ MORE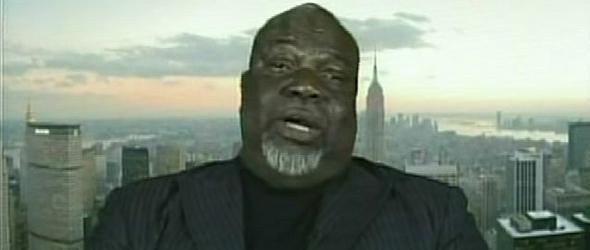 Roland Martin talks with Bishop T.D. Jakes about the importance of marriage and its role in the state of the ...
READ MORE