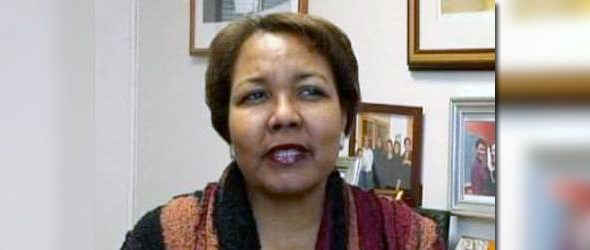 Roland Martin talks with Julieanna Richardson about a special project by HistoryMakers where 200 Black history makers will head back to school. The project aptly entitled "Back to School with the HistoryMakers" will allow prominent African-Americans to talk directly to young people in schools around the nation.
Richardson explained the premise behind today's events saying, "we wanted them [The HistoryMakers] to give back." She also said, many schools have written to The HistoryMakers saying the students are in need of "uplifting or someone to look up to."
Some of the participants in today's special events include former New York City Mayor, David Dinkins, CNN's Soledad O'Brien, Rev. Al Sharpton, Marla Gibbs and Fred Shuttlesworth just to name a few. Education Secretary Arne Duncan, Rev. Alsharpton and Roger Wilkins with be at the Dorothy Height Charter School in Washington DC.
For more information about the The HistoryMakers visit http://www.thehistorymakers.com.
Listen to Roland Martin's entire TJMS interview with Julieanna Richardson.
Audio clip: Adobe Flash Player (version 9 or above) is required to play this audio clip. Download the latest version here. You also need to have JavaScript enabled in your browser.
Sphere: Related Content
Related Posts
Roland, TJMS, 10.18.11: Roland S. Martin/Tom Joyner Morning
Roland, TJMS, 10.14.11: Roland S. Martin/Tom Joyner Morning
Roland, TJMS, 10.13.11: Roland S. Martin/Tom Joyner Morning
Roland, TJMS, 09.21.11: Roland S. Martin/Tom Joyner Morning
Roland, TJMS, 09.30.11: Roland S. Martin/Tom Joyner Morning
Roland, TJMS, 09.28.11: Roland S. Martin/Tom Joyner Morning
Roland, TJMS, 09.26.11: Roland S. Martin/Tom Joyner Morning
Roland, TJMS, 09.20.11: Roland S. Martin/Tom Joyner Morning
Roland, TJMS, 09.16.11: Roland S. Martin/Tom Joyner Morning
Roland, TJMS, 09.15.11: Roland S. Martin/Tom Joyner Morning