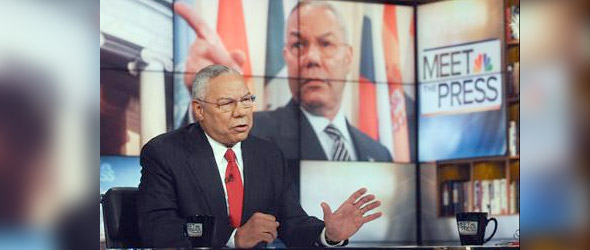 Source: Doug Stanglin / USA Today
Colin Powell is clarifying comments he made this weekend on Meet the Press to emphasize that he does not hire illegal immigrants.
News coverage of his appearance on the NBC Sunday talk show, such as a story by The Associated Press, reported that Powell said "illegal immigrants do essential work in the U.S. and that he has firsthand knowledge of that — because they fix his house."
This morning, however, comes word from Powell's office that he "misspoke."
"I don't hire illegal immigrants," Powell says in a statement today. "On Meet the Press yesterday, I referred to illegal immigrants working around my house. I was referring to the many service contractors who work in my neighborhood, using mostly immigrant workers, who do good work. Some may well be 'illegal.' There are 11 million illegal immigrants in this country and most are working somewhere in our economy."
To read this article in its entirety visit USA Today.
Sphere: Related Content
Related Posts
Jesse Jackson calls on Selig to pull All-Star
Budget Cuts Claim Hundreds Of Thousands Of County,
Ready For Some Controversy: Hank Williams Compares Golf
California Farm Recalls Lettuce Amid Listeria Concerns
USA TODAY: Troy Davis' Death Row Case In
President Obama: Jobs Plan Will Block Double-Dip Recession
Appeals Court Favors Obama Health Care Law
More Restaurants Are Targeting Customers Who Use Food
Judge Dismisses Assault Charges Against Strauss-Kahn (VIDEO)
Motown Songwriter Nick Ashford Dies