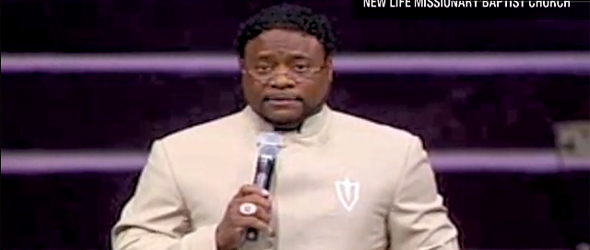 Source: Don Lemon, Ashley Fantz, Aaron Cooper and Susan Brown / CNN

Five days after the first of four lawsuits was filed claiming he coerced young males into sexual relationships, Georgia pastor Eddie Long took to the pulpit Sunday to tell his side of the story.
Speaking to the massive congregation packed into the Atlanta-area New Birth Missionary Baptist Church for an 8 a.m. service, Long said that "this is probably the most difficult time" of his entire life, but he intends to fight the allegations against him.
He said his first responsibility was his family, and the members of his Atlanta-area church. However, he joked that he would be "remiss" not to address "the world."
"I've been accused, I'm under attack. I want you to know, as I said earlier, that I am not a perfect man," he said. "But this thing, I'm going to fight."
To read this article in its entirety visit CNN.
WATCH: Bishop Eddie L. Long Vows To Fight Allegations
Sphere: Related Content
Related Posts
Bishop Paul Morton's Message To Bishop Eddie Long
Sex Lawsuits Involving Ga. Pastor Resolved (VIDEO)
Eddie Long, Investor Clash Over Church Money
Minister Allegedly Operating Sex And Rave Clubs As
Bishop Eddie Long Had Fifth Accuser in Sexual
'Real Housewives Of The Bible' Debuts (VIDEO)
New Birth Missionary Baptist Church Disputes Rumors That
No, Bishop Long, We Cannot Ignore the Past
Bishop Eddie Long Reaches Settlement In Sex Abuse
Harold Camping: New Doomsday Date Is In October