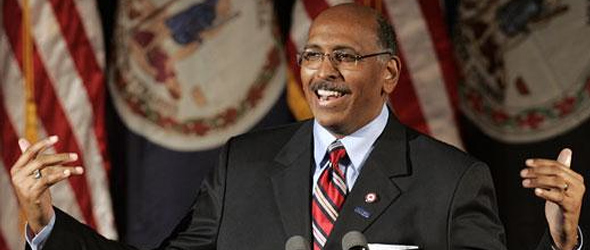 Roland Martin talks with Republican National Committee Chairman, Michael Steele about the results of the 2010-midterm elections.
Steele explained where Republicans were just a year ago, saying the GOP had lost a lot of their base supporters and walked away from their message. In getting back to their message, Steele said he decided to "put the party in the streets."
Steele told Roland on his second day as RNC Chair, he went to Harlem and people asked why he went there. Steele said because voters are there, "the goal was to put the party where it was uncomfortable with itself because it had to get outside of its comfort zone and go to people and talk to people it hadn't done before and because we did I think we won."
Roland asked Steele about Mitch McConnell's comments about making President Obama a one-term president. Steele said, "I think McConnell was talking in political terms. Look, at the end of the day he is the opposition leader. His goal is not to sit there and say, 'Oh yeah I'm going to be supporting the re-election of the opposition. So you have to put it in context." Steele also explained, "it is part of the politics and the political aspects of both Obama's job and Mitch McConnell's job."
Listen to Roland Martin's entire TJMS interview with RNC Chair, Michael Steele. Roland and Steele discuss Republican engaging minority voters, African-American Republicans who were elected to office this past Tuesday, what are Republicans going to do to get America back to work as well as get the economy back on track and how Republicans and Democrats can work together.
Audio clip: Adobe Flash Player (version 9 or above) is required to play this audio clip. Download the latest version here. You also need to have JavaScript enabled in your browser.
Sphere: Related Content
Related Posts
Roland, TJMS, 10.08.10: Roland S. Martin/Tom Joyner Morning
Roland, TJMS, 11.04.10: Roland S. Martin/Tom Joyner Morning
Roland, TJMS, 10.25.10: Roland S. Martin/Tom Joyner Morning
Roland, TJMS, 10.21.10: Roland S. Martin/Tom Joyner Morning
Presidential Vacation Whiners Should Get a Life
Roland, TJMS, 06.22.11: Roland S. Martin/Tom Joyner Morning
Roland, TJMS, 05.23.11: Roland S. Martin/Tom Joyner Morning
Roland, TJMS, 05.17.11: Roland S. Martin/Tom Joyner Morning
Roland, TJMS, 04.14.11: Roland S. Martin/Tom Joyner Morning
Roland, TJMS, 04.05.11: Roland S. Martin/Tom Joyner Morning