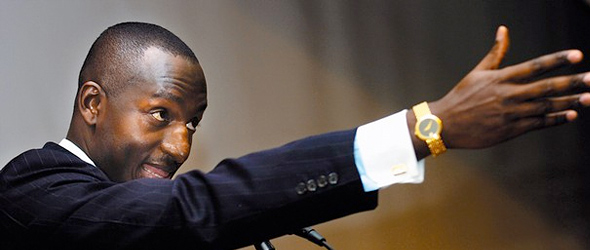 Roland Martin talks with Randall Pinkett about his new book "Black Faces in White Places."
For generations, African-Americans have been told that to succeed, they need to work twice as hard as everyone else. But as millions of black Americans were reminded by Pinkett's experience, sometimes hard work is not enough. Black Faces in White Places is about "the game"—that is, the competitive world in which we all live and work. The book offers 10 revolutionary strategies for playing, mastering, and changing the game for the current generation, while undertaking a wholesale redefinition of the rules for those who will follow. It is not only about shattering the old "glass ceiling," but also about examining the four dimensions of the contemporary black experience: identity, society, meritocracy, and opportunity. Ultimately, it is about changing the very concept of success itself.
Listen to Roland Martin's entire interview with Randall Pinkett.

Audio clip: Adobe Flash Player (version 9 or above) is required to play this audio clip. Download the latest version here. You also need to have JavaScript enabled in your browser.
Sphere: Related Content
Related Posts
Roland, TJMS, 10.18.11: Roland S. Martin/Tom Joyner Morning
Roland, TJMS, 10.14.11: Roland S. Martin/Tom Joyner Morning
Roland, TJMS, 10.13.11: Roland S. Martin/Tom Joyner Morning
Roland, TJMS, 09.30.11: Roland S. Martin/Tom Joyner Morning
Roland, TJMS, 09.28.11: Roland S. Martin/Tom Joyner Morning
Roland, TJMS, 09.20.11: Roland S. Martin/Tom Joyner Morning
Roland, TJMS, 09.16.11: Roland S. Martin/Tom Joyner Morning
Roland, TJMS, 09.15.11: Roland S. Martin/Tom Joyner Morning
Roland, TJMS, 09.14.11: Roland S. Martin/Tom Joyner Morning
Roland, TJMS, 09.12.11: Roland S. Martin/Tom Joyner Morning