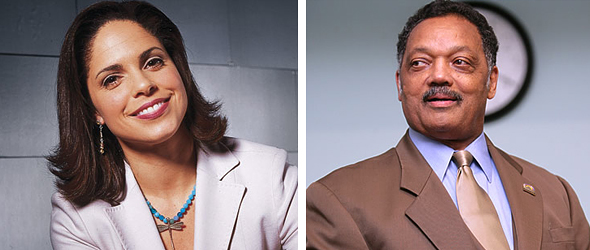 Source: The Huffington Post
In her new book, "The Next Big Story," CNN anchor Soledad O'Brien recounts an exchange she had with Jesse Jackson, where the civil rights leader told her she "didn't count" as a black anchor on the network.
In an excerpt of the book posted on CNN, O'Brien writes that, in 2007, she met privately with Jackson, who complained about the relative lack of publicity that CNN was giving to its black personalities. O'Brien, who has a black mother and a white father, agreed with him. But then, she writes, Jackson complained that there were no black anchors on CNN at all:
Does he mean covering the campaign, I wonder to myself? The man has been a guest on my show… I interrupt to remind him I'm the anchor of American Morning. He knows that. He looks me in the eye and reaches his fingers over to tap a spot of skin on my right had. He shakes his head. "You don't count," he says.
O'Brien writes that she was confused about what Jackson meant — was she not black, or not black enough, or did her show not count to him?
Read the full excerpt from "The Next Big Story" here.

To read this article in its entirety visit The Huffington Post.
Sphere: Related Content
Related Posts
Huntsman To Boycott Presidential Debate
A Safe Place For Chicago Youth: Common Introduces
AC360 Keeping Them Honest: Lobbying Rick Perry (VIDEO)
James Carville To White House: Panic (VIDEO)
Poll: Americans Optimistic About Hillary Clinton Presidency
Supreme Court Halts Texas Execution Of Duane Buck
'Handcuff Houdini' Licks His Way Out Of Handcuffs
Jackie Kennedy Called MLK 'Phony' (VIDEO)
New CNN Poll: GOP Divided Over Tea Party
Ron Paul's Sick Staffer Died Uninsured (VIDEO)