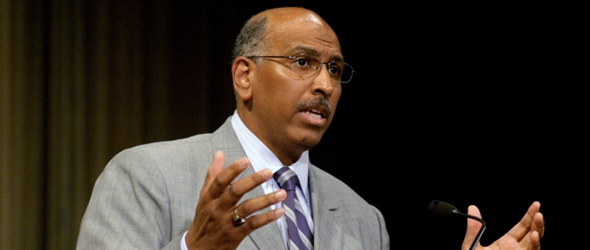 Roland Martin appears in The Situation Room with Leslie Sanchez and host Wolf Blitzer.
Current RNC Chair Michael Steele is giving an indication that he wants a second term but members of the GOP are saying that he should not get the job. Republicans are setting up a scoring system called the 13-point "Leadership Criteria" test to determine if potential candidates line up with Republican principles.
WATCH: Michael Steele Wants A Second Term, But Will The GOP "Leadership Criteria" Test Stop Him?
Sphere: Related Content
Related Posts
Steele Asked To Apologize For 'Idiot' Remark
Michael Steele Admits Stumbles, Announces re-Election Bid
Michael Steele Could Announce His Future Tonight
GOP Holding The Senate Hostage (VIDEO)
Michael Steele Eyes Second Term As RNC Chair
GOP Seeks Auto Industry Cuts To Cover Disaster
New CNN Poll: GOP Divided Over Tea Party
Rep. Allen West Picks A Fight With Dems
Roland Martin: Democrats And Republicans Acting Like Children
Sen. Tom Harkin: House Republicans Have Morphed Into