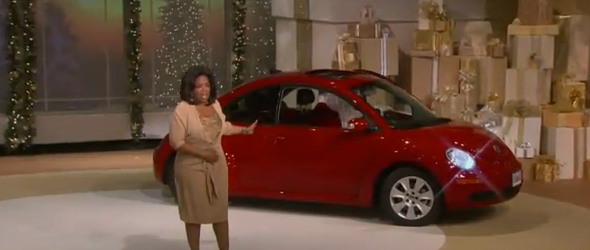 Source: Peter Valdes-Dapena / CNN Money
TV host Oprah Winfrey gave her studio audience 275 Volkswagen New Beetles Monday as part of "Oprah's Favorite Things" promotion.
Unfortunately, her audience members can't get their cars yet because Winfrey gave them 2012 New Beetles. That new version of the iconic curvy little car has yet to be revealed to the public.
On the show, Winfrey showed only a silhouette of the new New Beetle. The new version is expected to be more performance-oriented than the current New Beetle.
Winfrey owns and drives a New Beetle and approached the automaker to arrange giving away the cars on her show, VW said in an announcement.
To read this article in its entirety visit CNN Money.
WATCH:
Sphere: Related Content
Related Posts
Steve Stoute Sits Down With Jay-Z, Pharrell, And
'Queen Esther': Highlights Of Remarks From Gordy Edwards'
What Will Beyonce-Jay-Z Baby Look Like? (VIDEO)
Critic's Notebook: Oprah, You Need A Break From
Authorities Say 'Real Housewives' Husband Killed Himself
WATCH: Dave Chappelle Does First Interview In Five
Michael Jackson's Mom Supports Tribute (VIDEO)
Oprah Winfrey Sued Over Slogan (VIDEO)
Jackson Family Fued Over Michael Tribute (VIDEO)
Funny Or Die: Michele And Marcus Bachmann Speak