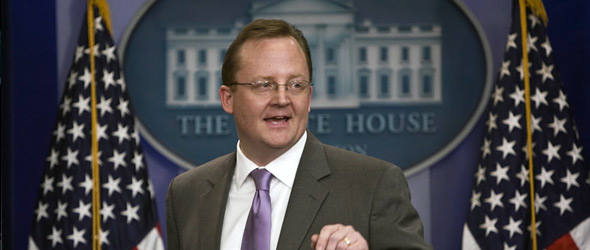 Source: Rachel Weiner / The Wasihngton Post
White House Press Secretary Robert Gibbs is leaving the White House, Democrats who have spoken with him say. Gibbs started informing his White House colleagues Wednesday.
The Post reported on Tuesday that Gibbs was considering leaving the administration, perhaps to set up his own consulting shop and play a leading role in the 2012 campaign.
To follow this topic visit The Washington Post.
WATCH: White House Shake-Up
Sphere: Related Content
Related Posts
Hank Williams Jr. Likens Obama To Hitler In
James Carville To White House: Panic (VIDEO)
Perry Slammed For Texas DREAM Act, Tea Party
Elizabeth Warren Announces Campaign For Senate In New
The Best Of The GOP Debate Zingers (VIDEO)
Best Of The CNN/Tea Party Debate (VIDEO)
LIVE VIDEO: President Obama Speaks On The American
President Obama To Submit His Jobs Plan To
White House: Obama's 'American Jobs Act' Will Include
Ponzi Scheme? Rick Perry Explains Social Security Stance