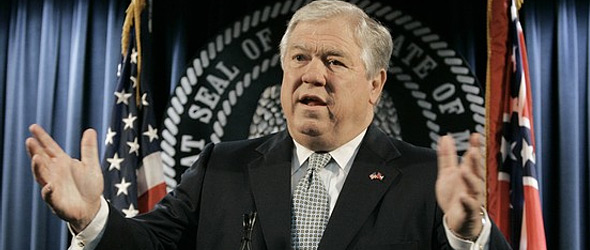 Source: Emily Wagster Pettus / MSNBC
Jackson, Miss. — Possible presidential contender Gov. Haley Barbour — under fire recently for comments that critics claim minimized the problems of Mississippi's civil rights era — said Tuesday night that his state should build a museum dedicated to the movement.
The Republican, who is considering a 2012 run in what could be a crowded GOP field, also used his 38-minute State of the State speech to criticize the policies of President Barack Obama.
Barbour said 2011 is a good time to move forward with the museum in Jackson. He said that was because it is the 50th anniversary of the Freedom Riders' journey that challenged racial segregation and the 150th anniversary of the start of the Civil War.
"The civil rights struggle is an important part of our history, and millions of people are interested in learning more about it," Barbour said. "People from around the world would flock to see the museum and learn about the movement."
To read this article in its entirety visit MSNBC.
Sphere: Related Content
Related Posts
Bill Clinton: GOP Argument On Taxing Wealthy Americans
President Obama Proposes $1.5 Trillion In New Taxes
Barbara Jordan Stamp To Be Issued
President Obama: Jobs Plan Will Block Double-Dip Recession
Rep. Maxine Waters: President Should Tax 'Gangsta Banks
Rep. Jesse Jackson, Jr.: Rick Perry Sounds Like
Al Sharpton Incensed About POTUS Jobs Speech Moving
Rep. Allen West Picks A Fight With Dems
O'Donnell Accuses CNN Host Of 'Borderline Sexual Harassment'
MSNBC's Dylan Ratigan Delivers Wake-Up Call To Congress