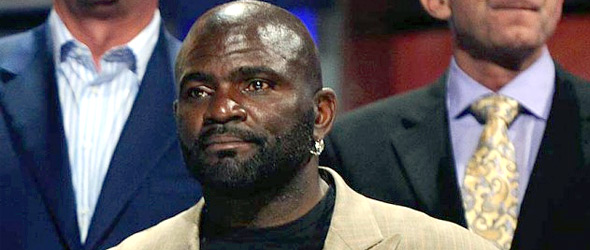 Source: AP / The Huffington Post
New City, N.Y.  — Former NFL star Lawrence Taylor pleaded guilty Thursday to sexual misconduct and patronizing a prostitute, misdemeanor charges that carry no jail time but require him to register as a sex offender.
The 51-year-old ex-linebacker, who led the New York Giants to Super Bowl titles in 1987 and 1991, will serve six years probation.
"She told me she was 19," Taylor, standing with his hands clasped behind him, said in court as he admitted having sex with a prostitute who turned out to be a 16-year-old Bronx runaway. Taylor said he now knows the girl was legally incapable of consent.
Harry Carson, his former teammate and fellow Hall of Famer, was in the courtroom and gave Taylor a supportive handshake when he arrived.
Prosecutor Patricia Gunning said the plea deal was acceptable in part because Taylor had assisted in investigations into human trafficking since he was charged. Another prosecutor, Arthur Ferraro, said outside court that Taylor "was of assistance in the field of human trafficking in several jurisdictions and with federal authorities."
To read this article in its entirety visit The Huffington Post.
Sphere: Related Content
Related Posts
Steve Williams Responds To Tiger Woods Firing: 'Loyalty
Shaq Disses Chris Bosh, Leaves Forward Out Of
Former WNBA Player Dies At 37
Donovan McNabb's Agent Responds To Bernard Hopkins
Tucker Carlson: Michael Vick 'Should Have Been Executed'
LeBron James GQ Interview: 'We Hated Cleveland'
NBA Player's Wife Held At Gunpoint By 3
Roland, TJMS, 07.12.10: Roland S. Martin/Tom Joyner Morning
Jesse Jackson: Gilbert Sees LeBron James As 'Runaway
LeBron James' Mom & Delonte West NOT Sleeping