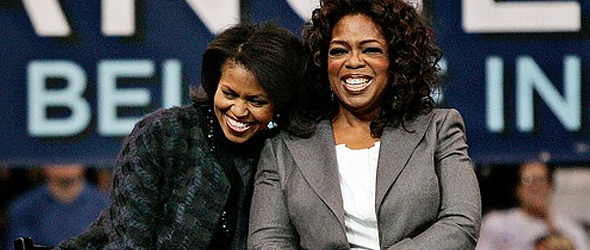 Source: AP / MSNBC
Washington — Michelle Obama is going on "The Oprah Winfrey Show."
The White House says the first lady is returning to her Chicago hometown Friday to tape one of the last original episodes of Winfrey's nationally syndicated talk show.
Mrs. Obama will discuss plans to launch a nationwide campaign to support families with someone in the military.
The first lady has become an advocate for military families. She has traveled to military installations to talk with service members about their needs and concerns and has urged Americans to volunteer time to help them.
To read this article in its entirety visit MSNBC.
Sphere: Related Content
Related Posts
Palin Knocks White House Over Common's Invitation
Critic's Notebook: Oprah, You Need A Break From
Report: Will And Jada Pinkett Smith Separate?
Oprah Winfrey Sued Over Slogan (VIDEO)
Singer Amy Winehouse Found Dead In London Home
Sharpton Appears To Win Anchor Spot on MSNBC
Michelle Obama To Guest Star On 'Extreme Makeover:
Preacher Says Oprah Is The Antichrist (VIDEO)
Intruder Arrested On Halle Berry's Property