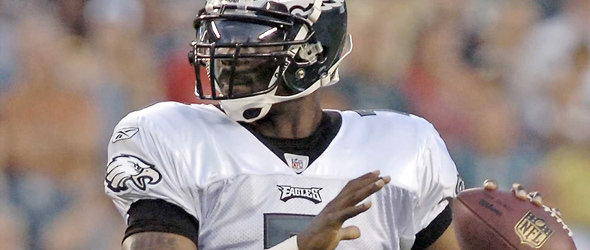 Source: AP / CBS News
Norfolk, Va. – A Pennsylvania-based animal rights group is raising money to buy NFL star Michael Vick's former dogfighting compound and turn it into a rehabilitation center for chained and penned dogs.
Dogs Deserve Better of Tipton, Pa. says it has until March 20 to raise nearly $600,000 to buy the 4,600-square-foot house in Surry County, Va.
The house and the 15 acres it sits on served as headquarters for the Bad Newz Kennels dogfighting operation.
Dogs Deserve Better says its ultimate goal is to raise $3 million to buy the site, install fencing and build a facility for the dogs.
To read this article in its entirety visit CBS News.
Sphere: Related Content
Related Posts
Retired NFLers Join Lockout Talks
Tiki Barber Compares Himself To Anne Frank
Family Of Beaten Giants Fan Suing L.A. Dodgers
31-Year-Old Arrested For Beating S.F. Giants Fan
Hines Ward Arrested At Gunpoint In LAPD Mix-Up
Michael Vick: Dogfighting Android App Is Wrong
Beaten Giants Fan May Have Brain Damage
NFL Great Lawrence Taylor's Pimp Pleads Guilty
Texas HS Basketball Player Dies During Timeout
High School Basketball Player Attacks Ref (VIDEO)