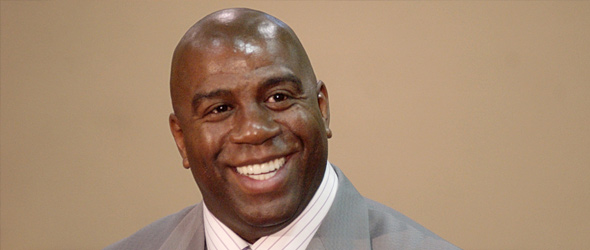 Source: Brett Pulley / Bloomberg
Retired basketball star Magic Johnson agreed to invest in Vibe Holdings LLC, a magazine and television company focused on the urban market, along with billionaire Ron Burkle, according to a person familiar with the agreement.
As part of the deal, Johnson, 51, will become chairman of New York-based Vibe, said the person, who declined to be identified because the deal isn't public. Johnson and Burkle, head of the investment firm Yucaipa Cos., will join Leo Hindery, the former cable and telecom executive, whose InterMedia Partners LP already owns a stake in Vibe.
An announcement could come as early as today, the person said yesterday. Tammy Warren, a spokeswoman for Magic Johnson Enterprises, didn't respond to a phone call seeking comment. Frank Quintero, a spokesman for Yucaipa, didn't respond to a phone call seeking comment.
Vibe, which targets multicultural markets with entertainment and general-interest news and content, includes Vibe magazine, Uptown magazine, media websites and the Soul Train TV show, with its library of 35 years of musical performances, according to the company's website. Last month, Vibe began publishing Uptown Professional, a business title.
To read this article in its entirety visit Bloomberg.
Sphere: Related Content
Related Posts
Common On His New Memoir, One Day It'll
Steve Stoute Sits Down With Jay-Z, Pharrell, And
Soulja Boy Apologizes To Armed Forces For Anti-Military
Eddie Murphy To Host 2012 Oscars
50 Cent's New Energy Drink To Help Bring
'Queen Esther': Highlights Of Remarks From Gordy Edwards'
Katt Williams Apologizes For Rant Directed At Mexicans
What Will Beyonce-Jay-Z Baby Look Like? (VIDEO)
Rapper T.I. Released From Prison
Critic's Notebook: Oprah, You Need A Break From