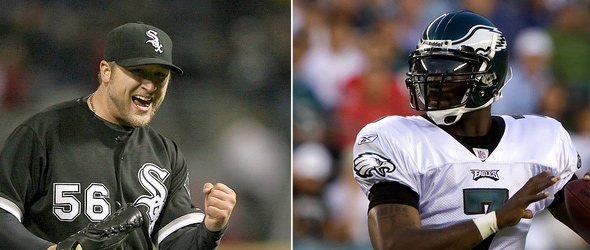 Source: The Huffington Post
Michael Vick had an amazing season, leading the Philadelphia Eagles to an NFC East title and a No. 3 seed in the postseason. But there are some who don't think highly of the NFL Comeback Player of the Year.
Chicago White Sox pitcher Mark Buehrle is apparently one of them.
In a story posted by Scott Merkin on MLB.com, Buehrle and his wife Jamie explained that they are dog lovers and weighed in on Michael Vick's story.
"Even if you are not a dog lover, how can you sit there and make two dogs fight and one is going to die?" Mark said. "How could you do that if you are somewhat sane?"
Their comments on Vick were removed from the article, but Merkin posted some of them on his twitter account.
To read this article in its entirety visit The Huffington Post.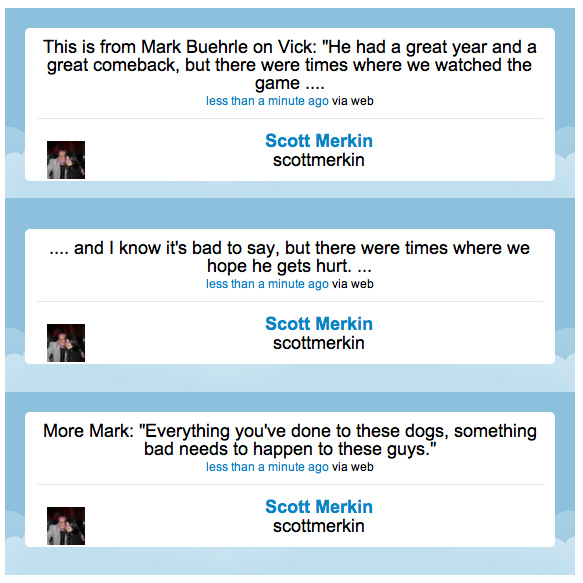 Sphere: Related Content
Related Posts
Steve Williams Responds To Tiger Woods Firing: 'Loyalty
Shaq Disses Chris Bosh, Leaves Forward Out Of
Former WNBA Player Dies At 37
Donovan McNabb's Agent Responds To Bernard Hopkins
Lawrence Taylor Pleads Guilty To 2 Misdemeanor Charges
Tucker Carlson: Michael Vick 'Should Have Been Executed'
LeBron James GQ Interview: 'We Hated Cleveland'
NBA Player's Wife Held At Gunpoint By 3
Roland, TJMS, 07.12.10: Roland S. Martin/Tom Joyner Morning
Jesse Jackson: Gilbert Sees LeBron James As 'Runaway