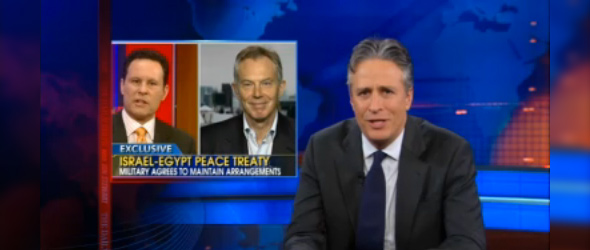 Source: Katla McGlynn / The Huffington Post
In the wake of the 18-day protests, Jon Stewart and the media wondered who can actually take credit for this uprising? Could all the credit really go to the Internet for getting the word out? Stewart didn't think that was likely, and showed some pretty ridiculous video proof that the Internet can't be thanked for anything.
Fox News seemed to give credit to America, particularly Tony Blair and George W. Bush during an interview with Blair, saying he and Bush first discussed peace in middle east in 2004.
To read this article in its entirety visit The Huffington Post.
WATCH:
Sphere: Related Content
Related Posts
Jon Stewart Says Goodbye To Glenn Beck, Mocks
Steve Stoute Sits Down With Jay-Z, Pharrell, And
Jon Stewart: Jimmy Hoffa Jr.'s Big Speech Upsets
'Queen Esther': Highlights Of Remarks From Gordy Edwards'
What Will Beyonce-Jay-Z Baby Look Like? (VIDEO)
Authorities Say 'Real Housewives' Husband Killed Himself
Daily Show: Jon Stewart Accuses Media Of Ignoring
WATCH: Dave Chappelle Does First Interview In Five
Michael Jackson's Mom Supports Tribute (VIDEO)
Jon Stewart Rips Standard & Poor's U.S. Credit