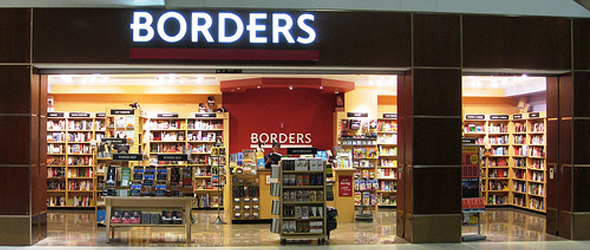 Source: Tiffany Kary and Erik Larson / Bloomberg
Borders Group Inc., the number-two U.S. bookstore chain, filed for bankruptcy in New York today after management changes, job cuts and debt restructuring failed to make up for sagging book sales in the face of competition from Amazon.com Inc. and Wal-Mart Stores Inc.
Borders will shut about 30 percent of "underperforming" stores "in the next several weeks" and restructure with $505 million in so-called debtor-in-possession financing from lenders led by GE Capital, according to a statement. The 40-year-old chain listed debt of $1.29 billion and assets of $1.28 billion as of Christmas 2010 in its Chapter 11 petition filed today in U.S. Bankruptcy Court in Manhattan. The company plans to restructure and continue to operate.
"Borders Group does not have the capital resources it needs to be a viable competitor," the company's president, Mike Edwards, said today in a statement. The filing will give it "time to reorganize in order to reposition itself to be a successful business for the long term."
Borders, whose market value shrank by more than $3 billion since 1998, racked up losses by failing to adapt to shifts in how consumers shop. Its first e-commerce site debuted in 2008, more than a decade after Amazon.com revolutionized publishing with online sales. The world's largest online retailer beat it again by moving into digital books with the Kindle e-reader in 2007, a market Borders entered in July.
To read this article in its entirety visit Bloomberg.
Sphere: Related Content
Related Posts
Bank Of America Plans To Cut 30,000 Jobs
Wells Fargo To Test $3 A Month Debit
HSBC Posts $11.5 Billion Profit, Announces Plan To
Apple Now Has More Cash Than The U.S.
Employers Offer Employees Incentives To Move In Or
Casino Magnate Steve Wynn Says Business Owners 'Fear'
Borders To Close Remaining Stores
Netflix Customers See Red After price hike
GM's First-Quarter Profit More Than Triples
Federal Reserve Chairman Ben Bernanke Holds First Fed