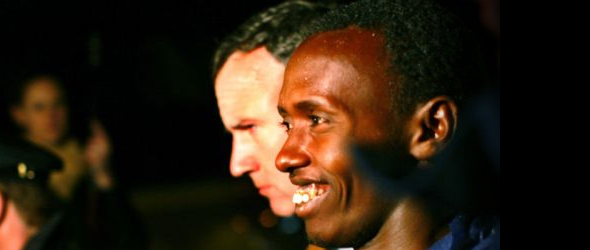 Source: AP / MSNBC
New York — A federal judge in Manhattan sentenced the Somali pirate who attacked a U.S.-flagged ship in 2009 is sentenced to more than 33 years in prison on Friday.
Abdiwali Abdiqadir Muse had admitted he's a modern-day pirate, but the U.S. government asked for a hefty sentence because it said he also had a sadistic streak.
While terrorizing merchant ships on the Indian Ocean, Muse regularly aimed "his gun at the head of a hostage and pulled the trigger, laughing when the gun did not fire," federal prosecutors wrote in court papers. "Muse derived joy from the suffering of victims."
Muse's involvement in a brazen high-seas attack on a U.S.-flagged vessel and the dramatic rescue of the ship's kidnapped captain in 2009 made him an instant symbol of a 21st-century brand of piracy targeting shipping routes off the coast of Africa — and of stepped-up efforts to punish offenders through 19th-century maritime laws.
To read this article in its entirety visit MSNBC.
Sphere: Related Content
Related Posts
Woman Found Guilty In Plot To Kill Husband
Netflix To Split DVD And Streaming Services
Bill Clinton: GOP Argument On Taxing Wealthy Americans
President Obama Proposes $1.5 Trillion In New Taxes
School Expels Washington Fourth-Grader Carrying Loaded Gun
MSNBC: Despite Red flags, White House Gave $500
TSA Agents, Cops Arrested For Drug Trafficking
USDA To Ban Six New E. Coli Strains
Unable To Pay Child Support, Poor Parents Land
President Obama: Jobs Plan Will Block Double-Dip Recession