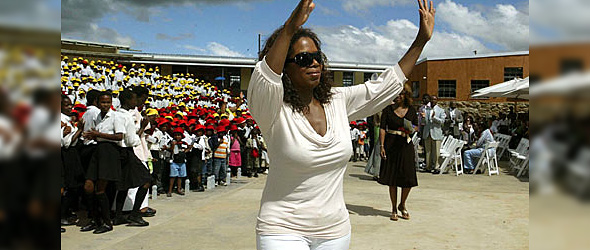 Source: Dana Hughes / ABC News
Oprah Winfrey's school for girls in South Africa is being rocked by a fresh scandal as police investigate the body of a newborn found in one of the student's bags, police said today.
The baby's body was found last Wednesday in a bag the 17-year-old girl brought to a hospital where she was being treated for excessive bleeding, police Lt. Col. Lungelo Dlamini told ABC News in a statement.
It is believed that the girl, who has not been identified, gave birth at her school, the Oprah Winfrey Leadership Academy for Girls, which is located outside Johannesburg.
No charges have been filed against the girl and police will discuss the case with the Director for Public Prosecutions once the investigation has been finalized.
To read this article in its entirety visit ABC News.
Sphere: Related Content
Related Posts
Oprah Winfrey's Last Show: Host On 25-Year Run
Maria Shriver, Aretha Franklin Appear At Oprah Winfrey's
Eddie Murphy To Host 2012 Oscars
Critic's Notebook: Oprah, You Need A Break From
Michele Bachmann Wishes Elvis Happy Birthday On Anniversary
Nicki Minaj Has Wardrobe Malfunction, Flashes Nipple On
Oprah Winfrey Sued Over Slogan (VIDEO)
ABC News: Lauryn Hill-Rohan Marley Baby Drama Centers
Preacher Says Oprah Is The Antichrist (VIDEO)