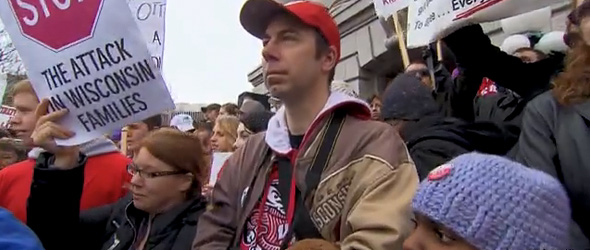 Source: CNN
The aisle-wide gap between Wisconsin GOP and Democratic lawmakers, arguing over union collective bargaining rights, stretched into an interstate chasm as Democratic state senators defended their decision to flee the state to preserve those rights.
"We will return and do our job, but the governor had to do his job," said state Senate Minority Leader Mark Miller, one of 14 Democrats and two Republicans who left Madison to stall a vote on a controversial GOP budget bill.
Republican Gov. Scott Walker is looking to slash $131 million from the state budget. Walker has called on the 16 lawmakers to return to the state Capitol to vote on the measure Friday.
CNN affiliates WREX and WTVO reported that several of the AWOL lawmakers fled to Rockford, Illinois.
To read this article in its entirety visit CNN.
WATCH:
Sphere: Related Content
Related Posts
James Carville To White House: Panic (VIDEO)
Perry Slammed For Texas DREAM Act, Tea Party
The Best Of The GOP Debate Zingers (VIDEO)
Best Of The CNN/Tea Party Debate (VIDEO)
President Obama To Submit His Jobs Plan To
White House: Obama's 'American Jobs Act' Will Include
Ponzi Scheme? Rick Perry Explains Social Security Stance
President Obama To Unveil $300 Billion Jobs Plan
Rollins Steps Down In Bachmann Campaign Shake-Up
Dick Cheney Is Unapologetic On Policies (VIDEO)