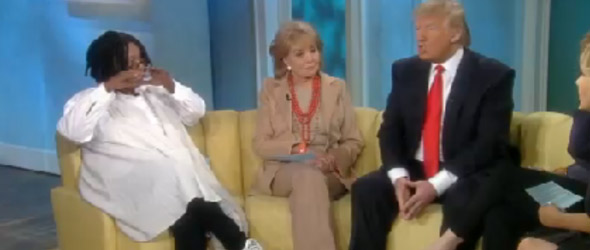 Source: Ann Oldenburg / USA Today

Donald Trump appeared on The View where he was grilled about his remarks questioning President Obama's birth certificate. "I want him to show his birth certificate! There's something on that birth certificate that he doesn't like," said Trump.
Said Whoopi, getting angry: "That's the biggest pile of dog mess I've heard in ages. It's not 'cuz he's black is it?"
"Has nothing to do with that," said Trump.
"Because when you become president of the United States of America, you know he's American. I"m sorry, that's BS."
To read this article in its entirety visit the USA Today.

WATCH:


Sphere: Related Content
Related Posts
Tim Pawlenty Endorses Former Rival Mitt Romney
Obama Campaign/DNC Raise $86 Million In Second Quarter
Herman Cain Says President Obama Is 'Not A
Tim Pawlenty Blasts President Obama On Economy, 'Class
Mitt Romney: Obama Was Born In The United
Trump To Obama Camp: 'I'm Their Worst Nightmare'
ABC EXCLUSIVE: Bill Clinton Calls 'Birther' Doubts About
Donald Trump Keeps Pushing "Birther" Claims (VIDEO)
Trump Allegedly 'Screwed' Gadhafi On Past Real Estate
ABC Exclusive: Donald Trump Would Spend $600 Million