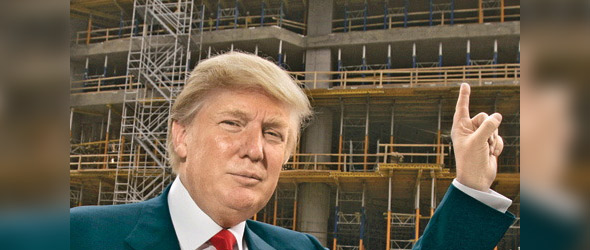 Source: Azi Paybarah / Observer.com
During an interview on Talk1300 Fred Dicker (New York Post's state editor) read a recent poll showing Obama's sky-high support among African-Americans.
Donald Trump said the numbers were troubling and pointed to Hillary Clinton as proof that he probably won't get the kind of support among African-Americans that he deserves.
"I tell it like it is," Trump said. "[Y]ou'll hear a political reporter go on and say it had nothing to do with race. But how come she had such a tiny piece of the vote? And you know, it's a very sad thing.
"I have a great relationship with the blacks. I've always had a great relationship with the blacks. But unfortunately, it seems that, you know, the numbers you cite are very, very frightening numbers."
To read this article in its entirety visit Observer.com.
Sphere: Related Content
Related Posts
Donald Trump: Weiner Is 'Lying' (VIDEO)
Donald Trump Responds To Charges Of Racism (VIDEO)
Trump Pulls Out Of Big Event; Parks Indy
Former Obama Aide: Where Are Trump's Tax Returns?
Republicans Slam Timing Of Obama's Birth Certificate Release
CNN: Trump Says He'll Reveal 'Interesting Things' On
The Donald Trumped On Abortion Question? (VIDEO)
Trump Ups Ante In Feud With Bill Cosby
Trump To Obama Camp: 'I'm Their Worst Nightmare'
Trump Sends Investigators To Hawaii To Look Into