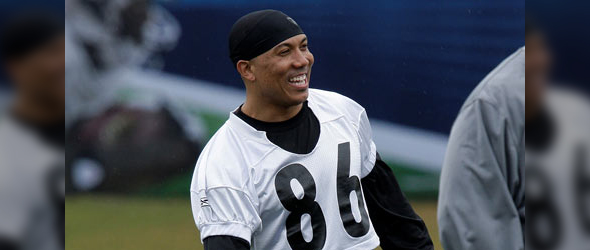 Source: AP / CBS News

Los Angeles – Pittsburgh Steelers wide receiver and "Dancing With the Stars" contestant Hines Ward was briefly detained at gunpoint Thursday in a mix-up over a reported stolen car, but he was released without being arrested, police said.
Ward and a woman friend were stopped in her car at about 1:30 a.m. in North Hollywood because she had mistakenly reported the car stolen on April 19, said Sgt. Maria Morrison.
The two had left a restaurant in North Hollywood, said officer Sara Faden.
Police took Ward out of the car at gunpoint and handcuffed him, Morrison said. Hines and the woman were released after she was able to prove the car was hers.
To read this article in its entirety visit CBS News.

Sphere: Related Content
Related Posts
Retired NFLers Join Lockout Talks
Tiki Barber Compares Himself To Anne Frank
Family Of Beaten Giants Fan Suing L.A. Dodgers
31-Year-Old Arrested For Beating S.F. Giants Fan
Michael Vick: Dogfighting Android App Is Wrong
Beaten Giants Fan May Have Brain Damage
NFL Great Lawrence Taylor's Pimp Pleads Guilty
Texas HS Basketball Player Dies During Timeout
Vick's Dogfight Compound May Become Rehab Center
High School Basketball Player Attacks Ref (VIDEO)