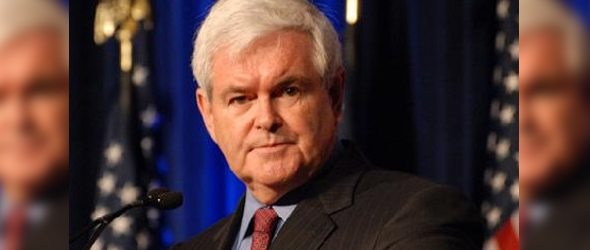 Source: Brian Montopoli / CBS News

Former House Speaker Newt Gingrich, who entered the 2012 presidential race just last Wednesday, is having an epically bad week. And it's only Tuesday.
On Sunday, Gingrich angered conservatives by criticizing Rep. Paul Ryan's budget plan and semi-supporting an individual mandate for health care. Now he is being stung by a report that he carried up to $500,000 in debt to the Tiffany jewelry company – and may still be carrying it.
Politico got the scoop by looking at financial records filed with the Clerk of the House of Representatives in 2005 and 2006. (CBS News has requested copies of the records, but has not yet seen them.) While Newt Gingrich has not been in the House since 1999, his wife, Callista Gingrich, worked for the House Agriculture Committee through 2007.
According to Politico, Callista Gingrich reported a "revolving charge account" at Tiffany and Company that she indicated was for the debt of her spouse. (A "revolving charge account" is a credit card.) She reported the debt to be in the range of $250,001 to $500,000.
To read this article in its entirety visit CBS News.
Sphere: Related Content
Related Posts
Texas Gov. Rick Perry Jumps Into 2012 Republican
Newt Gingrich Had $1M In Credit At Tiffanys
Newt Gingrich Defends His Wife (VIDEO)
Former Aide Rich Galen: Gingrich 'Can Pretend,' But
Newt Gingrich: 'I Am Not A Washington Figure'
Obama Campaign Mocks Birthers With Birth Certificate T-Shirts
Newt Gingrich Get 'Glittered' By Gay Rights Protester
Gingrich: Obama 'Most Successful Food Stamp President'
Gingrich Set To Announce Bid For White House
Haley Barbour Criticized For Praising Segregationist Group