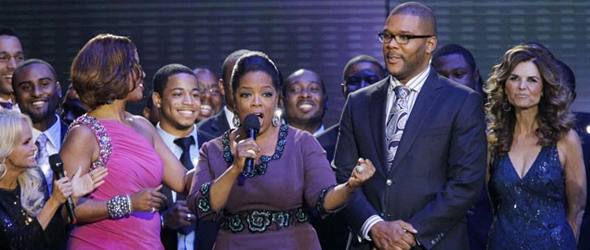 Source: Suzan Clarke and Luchina Fisher / ABC News

Oprah Winfrey has made a career our of surprising people but on Tuesday night, the tables were turned as hundreds of her fans and celebrity friends surprised her to say goodbye.
FromMaria Shriver to Aretha Franklin to Tom Cruise, stars paid tribute to Winfrey during the taping of two shows leading up to the talk show queen's grand finale next week.
Shriver, the former first lady of California, didn't appear to show any evidence of her recent marital troubles.
"For more than 30 years you have bestowed upon me the most amazing friendship. You have shown love, support, wisdom, and most of all, the truth …," Shriver told Winfrey, pausing for a moment after she uttered the phrase "the truth."
To read this article in its entirety visit ABC News.
WATCH: Oprah Winfrey Farewell: Celebs Say Goodbye
Sphere: Related Content
Related Posts
Oprah Winfrey's Last Show: Host On 25-Year Run
Body Of Dead Newborn Found At Oprah Winfrey's
Eddie Murphy To Host 2012 Oscars
Critic's Notebook: Oprah, You Need A Break From
Michele Bachmann Wishes Elvis Happy Birthday On Anniversary
Nicki Minaj Has Wardrobe Malfunction, Flashes Nipple On
Oprah Winfrey Sued Over Slogan (VIDEO)
ABC News: Lauryn Hill-Rohan Marley Baby Drama Centers
Preacher Says Oprah Is The Antichrist (VIDEO)