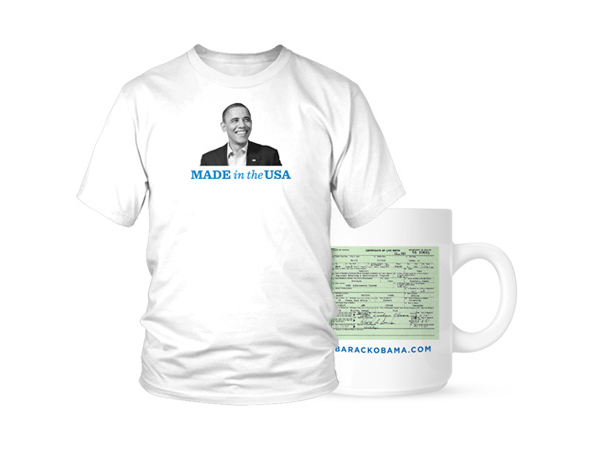 Source: Lucy Madison / CBS News

Despite President Obama's initial hesitation to dignify the "birther" question, his 2012 campaign team is ready to capitalize – both politically and financially – on doubts about his U.S. citizenship.
Earlier this year, Mr. Obama ceded to pressure from "birthers" (a contingent of Americans – including Donald Trump – who expressed skepticism about his Hawaiian origins) to release his long-form birth certificate as proof that he was, in fact, born in the United States. At the time, however, the president condemned "sideshows and carnival barkers" for distracting the American public with "silliness" rather than focusing on substantive issues.
Now, Mr. Obama's 2012 presidential campaign is poking fun at the issue, and inviting supporters to get in on the joke – for just $25 or more.
"Obama for America," the president's campaign arm, is offering t-shirts that play on the questions surrounding his citizenship. The front of the shirts feature a picture of the president, under which reads the line "Made in the USA." The back depicts a copy of the president's long-form birth certificate. ("Made in America" mugs are also available for purchase.)
To read this article in its entirety visit CBS News.
For more information about the President Obama birth certificate t-shirts and mugs visit BarackObama.com.
Sphere: Related Content
Related Posts
President Obama: My Odds Are Better In 2012
President Obama To Unveil Jobs Plan In Major
President Obama: I'll Be Ready For GOP In
Texas Gov. Rick Perry Jumps Into 2012 Republican
Rep. Lamborn Apologizes After "Tar Baby" Remark (VIDEO)
Bill Clinton: I Would Raise The Debt Limit
Obama Campaign/DNC Raise $86 Million In Second Quarter
Herman Cain Says President Obama Is 'Not A
Federal Appeals Court Upholds Health Care Law
Newt Gingrich Had $1M In Credit At Tiffanys