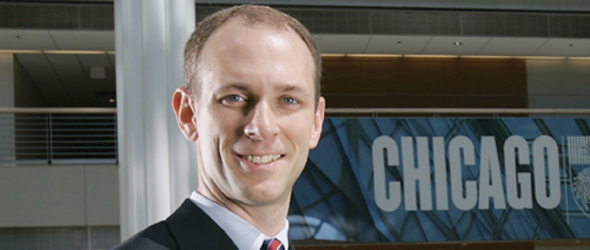 Source:
Alexander Mooney / CNN
The White House is losing one of its most public faces when it comes to issues related to the economy. Dr. Austan Goolsbee, Chairman of the President's Council of Economic Advisers, announced he is returning to teaching at the University of Chicago later this summer.
Goolsbee has served as President Obama's economic advisor since the presidential campaign and has become the White House's point man to explain the administration's interpretation of economic reports to the American public.
In a statement, Goolsbee praised Obama's handling of the economy:
"Working each day on behalf of the American people has been a rare privilege, particularly at such a historic time. While I am looking forward to returning home to Chicago, I will always be proud of the years I have spent working for this President. I believe that his judgment, his courage in confronting the worst economic crisis of our lifetimes, and his commitment to the American people have made a tremendous difference for the nation."
To read this article in its entirety visit CNN.
Sphere: Related Content
Related Posts
Huntsman To Boycott Presidential Debate
AC360 Keeping Them Honest: Lobbying Rick Perry (VIDEO)
James Carville To White House: Panic (VIDEO)
Poll: Americans Optimistic About Hillary Clinton Presidency
New CNN Poll: GOP Divided Over Tea Party
GOP Presidential Candidates Fail To Offer Solutions On
Perry Slammed For Texas DREAM Act, Tea Party
The Best Of The GOP Debate Zingers (VIDEO)
Best Of The CNN/Tea Party Debate (VIDEO)
Gov. Bobby Jindal To Endorse Perry