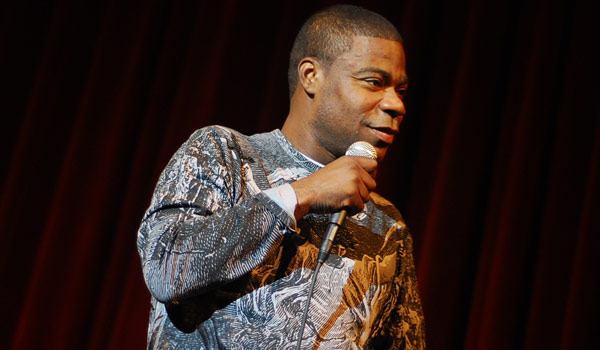 Why is comedian and "30 Rock" star Tracy Morgan issuing a mea culpa for saying nasty, vicious and vile things during a stand-up routine? Isn't that par for the course of a comedian?
Oh, I can't wait to see the hate mail pile into my box for supposedly defending Morgan, who ripped into gays and lesbians during a stand-up act last week in Tennessee, even suggesting in his bit "how he'd stab his son to death if he said he was gay."
The moment the saw crossed the wires, I naturally cringed. Who in their right mind would say such a thing about his gay son? No person in his or her right mind! Except for a comedian who is accustomed to saying shocking things on stage to get a laugh.
The comedy routine picked up steam in the social media world when Kevin Rogers, who attended the Nashville show, ripped Morgan in a Facebook post entitled, "Why I No Longer Like Tracy Morgan."
Rogers says the Morgan stand-up routine crossed the line and that Morgan's demeanor changed.
Once word of the routine spread, it lead to calls for action against Morgan by Human Rights Campaign, the largest gay and lesbian civil rights organization, and even a mea culpa from the theatre where it was held.
In their statement, Fred Sainz, vice president of communications for Human Rights Campaign, said: "Hateful remarks that mock youth suicides and the very real emotional and sometimes physical bullying LGBT kids face on a daily basis have no place in a comedy routine."
Morgan, clearly sensing a storm brewing, issued an apology.
"I want to apologize to my fans and the gay & lesbian community for my choice of words at my recent stand-up act in Nashville," he said. "I'm not a hateful person and don't condone any kind of violence against others. While I am an equal opportunity jokester, and my friends know what is in my heart, even in a comedy club, this clearly went too far and was not funny in any context."
Yet whether we want to admit to it or not, it is the DNA of those in the chosen profession of comedy to say stuff that no one could get away with if they weren't on a stage.
Oh yes, you'll say, "But Roland, you criticized Michael Richards for using the N-word." Sure did. What's the difference? I said then and now that Richards directly attacked an audience member and his use of the N-word had nothing to do with his routine. If it was in the context of a routine, it would not have been received the same.
Have other white comedians used the N-word in a routine? Yep. Comedic genius George Carlin used the N-word in a famous skit where he talks about the context of who uses the N-word and why.
Some on my followers on Facebook and Twitter echoed the Human Rights Campaign statement by saying no one should make jokes about murder or violence from the stage. Really?
So, I asked them: "Go listen to some of your favorite comedians and tell me if they said racist, sexist, homophobic stuff about any group. Go ahead and update/tweet it. I think many of you would be shocked and amazed that you laughed hysterically at some of the most sexist, homophobic, racist stuff."
I then went through my iPod and came across Chris Rock's "OJ, I Understand" bit from his special, "Roll With the New." Rock said that he understood that O.J. killed his wife, Nicole Simpson, and friend, Ron Goldman, because he saw them driving around in a Ferrari that O.J. bought.
"I'm not saying he should have killed her, but I understand," said Rock, as the audience exploded to laughter and applause.
Wait. Chris Rock stood on stage that he "understood" O.J. for killing two people? Yep. Said it in a comedy routine on stage.
The late Robin Harris, who has been hailed as a comedic genius, has a bit on his CD, "Bebe's Kids," entitled "Hate My Wife."
Harris rails against his wife for being ugly "for no reason at all," later saying, "I be hoping I go home some night the ambulance be pulling her ass out.
All they do is just ask me to review the body. Is that the bitch? Yea!"
Wait. Robin Harris stood on stage to denounce his wife because she was ugly and proceeded to say that he hope he could come home and find her dead? Sure did, and the audience was gasping for air because of the laughter.
On his comedy CD, "Down South Somewhere," Steve Harvey has a bit called "Willie Turner," where he talks about the difference between firing a white worker and a black worker named Willie Turner. Harvey says the white worker will take it in stride, but an on-edge Willie Turner won't be so accommodating, to the point of saying, "You bet not say what I think you're about to say. Say it. I'll burn this mother … I'll kill your kids. I'll kill your kids. I'll kill your kids, Tom!"
Wait. Did Steve Harvey just describe the process of laying off a worker with images of burning the office down and killing the supervisor's children? Sure did, and the audience cracked up.
In the greatest grossing comedy tour in history, "The Kings of Comedy," Bernie Mac jokes about having a gay 6-year-old nephew that he was raising, calling him a "faggot" and mimicking how he walked and talked. He told him to man up by doing some pushups.
At another point in the show, Bernie Mac told the audience about bad children and said, "I'm from the old school; I'll kick a kid's ass. When a kid gets 1-years-old, I believe you've got the right to hit 'em in the throat or the stomach."
Bernie Mac even said he would open up his own day care center that is totally designed to beat a kid who gets out of line. "When you come to pick your kid up and he's got a knot on the corner of his head, and you say, 'What happened to my son?' I'll tell ya. I took a hammer and slapped the fuck out of him! for jumping on my couch."
Wait. Did Bernie Mac openly talk about child abuse? And how did the audience respond? They ate it up with tremendous applause.
With all of these comedians, we can judge their routines based on what we heard and saw. But with Morgan, all we have of what he said is written, and we can't judge the context, tone and demeanor ourselves. And there is no doubt that is the same as Rock and Harvey and Bernie Mac and others: Reading what they said is different than seeing or hearing.
There isn't enough space on the Internet to chronicle the number of times a comedian has said nasty and vile things. Some of it leading the audience to fall out laughing or sometimes, or as in the case of Morgan, walk out in protest. If we are to demand an apology for every time a comedian is sexist against men or women, racist or homophobic, we might as well launch a website called www.comediansapologizedaily.com.
Say I'm wrong. Fine. Say I'm insensitive to gays and lesbians. Fine. I'll wait for the usual bigots to say that I'm defending Tracy Morgan because he's black. Fine.
But think for a moment at all the times you've laughed at comedians based on the things they had to say. Then ask yourself: Did I laugh, and why?
Sorry, if I'm being honest here and not focusing on political correctness. I just believe that many of you would be shocked and amazed that you laughed hysterically at some of the most sexist, homophobic, racist stuff imaginable by comedians of all shapes, sizes, ethnic backgrounds, genders and sexual orientations.
Maybe none of us want to accept that as a comedian, Morgan is keenly aware of what society actually thinks, and he simply said it onstage. Isn't that what comedians have always done? Reflect what society actually thinks, but say it in a forum where we can laugh through our pain.
"It ain't what you say it's how you say it. It's jokes. It's fun. But it's the truth. In the back of your mind, you be wanting to say this shit sometimes."
Sorry, that's not my quote. That was Bernie Mac from "The Kings of Comedy."
Roland S. Martin is an award-winning CNN analyst and the author of the book "The First: President Barack Obama's Road to the White House as originally reported by Roland S. Martin." Please visit his website at www.RolandSMartin.com. To find out more about Roland S. Martin and read his past columns, visit the Creators Syndicate Web page at www.creators.com.
COPYRIGHT 2011 CREATORS.COM
Sphere: Related Content
Related Posts
WATCH: Roland Martin Details Dave Chappelle's Performance And
Mediaite: CNN's Roland Martin Livetweets Dave Chappelle's Strange
Roland, TJMS, 06.13.11: Roland S. Martin/Tom Joyner Morning
Washington Watch Comedians Panel Takes On Bristol Palin,
Women's History Month: Roland's Book Club Selections
ROLAND S. MARTIN: It's Time To Stop Being
Perspective: At The Table Of Brotherhood, Discussing Differences
ROLAND S. MARTIN: Props To NCAA For Banning
ROLAND S. MARTIN: Today's GOP Missouri Primary Is
Final Thoughts On Super Bowl-Twitter Controversy