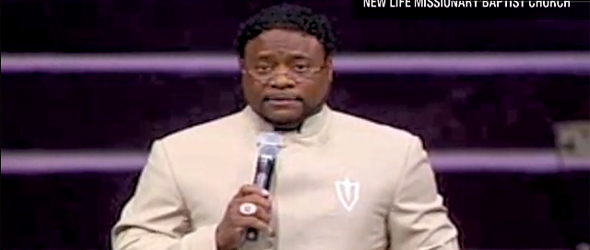 Source: Fran Jeffries / The Atlanta Journal-Constitution

New Birth Missionary Baptist Church is disputing rumors that Bishop Eddie Long's wife, Vanessa, has moved out of the couple's home.
"That claim is completely and absolutely false," according to a statement from church spokesman Art Franklin. "Mrs. Long is very much a loving, dedicated and committed wife and mother."
Eddie Long and New Birth are rebounding from allegations of sexual misconduct. Last fall, four young men accused Long, senior pastor of the Lithonia megachurch, of coercing them into having sex. Their lawsuits were settled in May, then dismissed.
The statement said New Birth church has, as a rule, chosen not to respond to rumors, but felt obliged to respond after blog entries surfaced claiming to have anonymous sources stating that Vanessa Long had moved out of the house.
To read this article in its entirety visit The Atlanta Journal-Constitution.
Sphere: Related Content
Related Posts
Bishop Eddie Long Had Fifth Accuser in Sexual
Bishop Paul Morton's Message To Bishop Eddie Long
No, Bishop Long, We Cannot Ignore the Past
Sex Lawsuits Involving Ga. Pastor Resolved (VIDEO)
Bishop Eddie Long Reaches Settlement In Sex Abuse
Eddie Long, Investor Clash Over Church Money
Bishop Eddie L. Long Vows To Fight Allegations
Fourth Lawsuit Filed Against Bishop Eddie Long
Radio Preacher Now Says Oct. 21 Is Definitely
Rev. Zachery Tims, Senior Pastor Of New Destiny