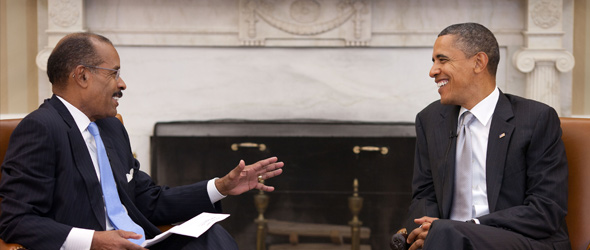 President Barack Obama, in his interview with Joe Madison on Siriuis XM today, discussed the following:
An outline for the White House new American Manufacturing Partnership program.
Cong. Michele Bachmann's claim that President Obama had "failed Latinos, failed African-Americans and failed all of us".
Cong. Wolf's recommendation to send former Sec. of State Colin Powell to Sudan.
Regarding his continuous support for DC Statehood and his position on putting 'Taxation Without Representation' license plates on the Presidential vehicle .
Sphere: Related Content
Related Posts
President Obama Goes On The Attack, To Democrats'
Fidel Castro Says President Obama Is 'Stupid'
Bill Clinton: GOP Argument On Taxing Wealthy Americans
President Obama Proposes $1.5 Trillion In New Taxes
President Obama: My Odds Are Better In 2012
James Carville To White House: Panic (VIDEO)
FINANCIAL TIMES: President Obama To Propose Medicare And
President Obama To Submit His Jobs Plan To
President Obama: Jobs Plan Will Block Double-Dip Recession
Roland, TJMS, 09.09.11: Roland S. Martin/Tom Joyner Morning