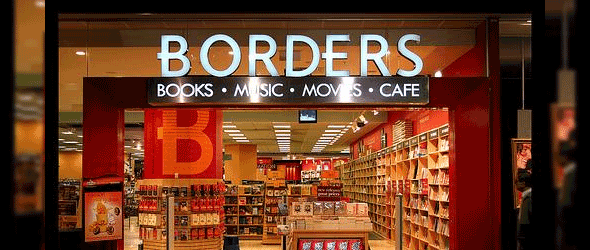 Source: MSNBC.
Borders, unable to find a seller willing to get it out of bankruptcy, plans to close its remaining 399 stores and go out of business by the end of September.
"Following the best efforts of all parties, we are saddened by this development," Borders Group President Mike Edwards said in a written statement late Monday. "We were all working hard towards a different outcome, but the headwinds we have been facing for quite some time, including the rapidly changing book industry, eReader revolution, and turbulent economy, have brought us to where we are now."
The nation's second-largest bookseller, which employs about 10,700 employees, said it will begin liquidating stores as early as Friday. The only two bidders for the company were two liquidation firms, Hilco Merchant Resources and Gordon Brothers Group.
Borders said it would ask the court Thursday to approve the bid by the companies to purchase Borders' assets and administer the liquidation process.
To read this article in its entirety visit MSNBC.
Sphere: Related Content
Related Posts
HSBC Posts $11.5 Billion Profit, Announces Plan To
Debt Collectors Troll Facebook — Are They going
World's Largest Bond Fund Bets Against U.S. Debt
German Takeover Of New York Stock Exchange Likely
School Expels Washington Fourth-Grader Carrying Loaded Gun
Bank Of America Plans To Cut 30,000 Jobs
Bank Of America Cutting At Least 3,500 Jobs
Wells Fargo To Test $3 A Month Debit
Warren Buffett Says Stop Coddling The Super-Rich
Tennessee Schools Dispute Pits 'Haves' Against 'Have-Nots'