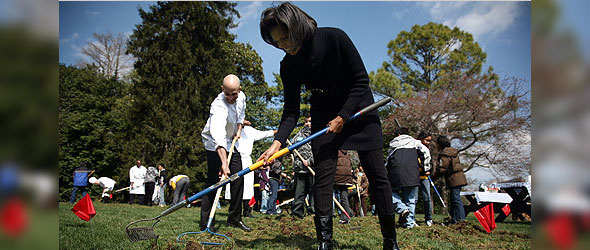 Source: Nicole Marie Melton / Essence

First Lady Michelle Obama will roll up her sleeves as a volunteer on ABC's "Extreme Makeover: Home Edition."
Mrs. O is heading to North Carolina tomorrow to help build a community center in Fayetville for homeless female veterans, ABC News reports.
The First Lady will also spend some one-on-one time with the community center's founder, Barbara Marshall, a 15-year Navy veteran who will also receive a new home on the show.
The episode is set to air in October.
To read this article in its entirety visit Essence.
Sphere: Related Content
Related Posts
FLOTUS Michelle Obama: Power Player (VIDEO)
Essence: Will and Jada Pinkett Smith Deny Split:
First Lady Teams Up With Grocers Nationwide
Michelle Obama's Shake Shack Burger Indulgence Defended by
Michelle Obama Sees Personal Stake in 2012 Election,
FLOTUS Michelle Obama Meets With Nelson Mandela In
Michelle Obama To Travel To Africa This Month
Palin Knocks White House Over Common's Invitation
FLOTUS Michelle Obama Drops By D.C. School For
Beyonce Joins FLOTUS 'Let's Move' Initiative (VIDEO)