Source: Alex Alvarez / Mediaite

Last Friday night, TV One and CNN analyst Roland S. Martin took in Dave Chappelle's stand-up show in Miami. When Chappelle's set began to take a nosedive after some hecklers in the audience began to get the best of the elusive comedian, Martin did what reporters do best. He reported on it, using Twitter.
Roland Martin's livetweets during Dave Chappelle's performance: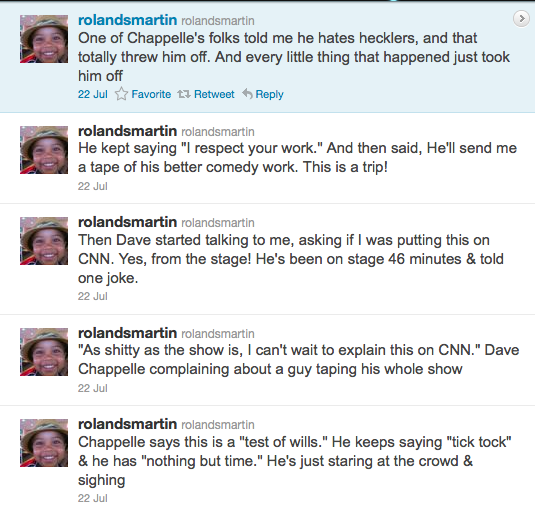 The next evening, both Chappelle and Martin attended former Heat player Alonzo Mourning's "Zo's Summer Groove" charity event at Seminole Hard Rock casino and hotel. Martin took to his personal blog to explain what had happened the night before while Chappelle took the opportunity to apologize for his bizarre performance, explaining that he'd had a "bad attitude" before going on to perform a successful 10-minute set.
TJMS: Roland Martin Discusses Dave Chappelle's Performance During Zo's Summer Groove

According to Martin, who spoke with Chappelle after the disastrous Friday night set, the comedian had not been on drugs of any sort and was merely upset by people heckling and filming the set. At one during the show, Chappelle apparently even asked Martin if he'd be "putting this on CNN."
To read this article in its entirety visit Mediaite.
WATCH:

Sphere: Related Content
Related Posts
Katt Williams Apologizes For Rant Directed At Mexicans
WATCH: Roland Martin Details Dave Chappelle's Performance And
Stephen Colbert's Super PAC Gets Approval
Roland, TJMS, 06.13.11: Roland S. Martin/Tom Joyner Morning
WTF? Comic Tracy Morgan Has Offensive Material?
Washington Watch Comedians Panel Takes On Bristol Palin,
Autopsy Scheduled For Singer-Songwriter Teena Marie
Roland, TJMS, 10.04.10: Roland S. Martin/Tom Joyner Morning
McDonald's 365Black Awards Red Carpet Arrivals at 2010
Washington Watch with Roland Martin – Hollywood Edition