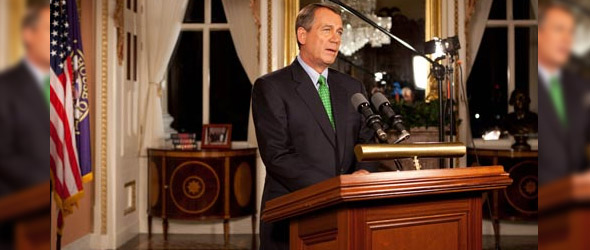 Source: Jeanne Sahadi, Deirdre Walsh and Kate Bolduan / CNN Money

NEW YORK (CNNMoney) — With the clock ticking down, House Speaker John Boehner will rewrite his debt ceiling legislation to ensure that it meets his oft-stated pledge to cut spending more than Congress increases the federal borrowing limit.
That was the word from Boehner's office after the Congressional Budget Office on Tuesday evening estimated that the Budget Control Act of 2011 would reduce deficits by only $851 billion over 10 years.
"We promised that we will cut spending more than we increase the debt limit — with no tax hikes — and we will keep that promise," Boehner spokesman Michael Steel said in a statement to CNN. "As we speak, congressional staff are looking at options to rewrite the legislation to meet our pledge."
To read this article in its entirety visit CNN Money.
Sphere: Related Content
Related Posts
Boehner, Biden Caught On Open Mic Before POTUS
House Calls Off Thursday Vote On Boehner's Debt-Limit
John McCain Blasts "Bizarro" Tea Party Debt Limit
Boehner And Reid Work On Partisan Debt Plans
No Word Of Progress In Debt Talks After
LIVE VIDEO: Speaker John Boehner Statement On Deficit
Boehner Hopes Debt Deal Could Hit House Floor
Bill Clinton: I Would Raise The Debt Limit
Poll: 71% Shun GOP Handling Of Debt Crisis
Source: President Obama Says He'll Risk Job For