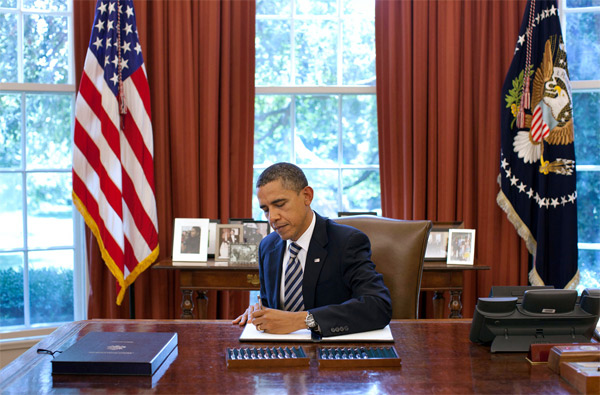 Source: Alan Silverleib and Tom Cohen / CNN

Washington – President Barack Obama on Tuesday signed into law a last-minute compromise plan to raise the nation's $14.3 trillion debt ceiling, narrowly averting what could have been an unprecedented default with calamitous economic consequences.
The U.S. Senate passed the plan, which imposes sweeping new spending cuts over the next decade, shortly after noon ET. The bill was approved in a 74-26 vote; 60 votes were required for passage.
The measure was approved by the House of Representatives on Monday by a 269-161 vote, overcoming opposition from unhappy liberal Democrats and tea party Republicans.
Obama praised the deal moments after the Senate passed it, calling the measure "an important first step for ensuring that as a nation we live within our means."
To read this article in its entirety visit CNN.
WATCH: Everyone has to chip in
Sphere: Related Content
Related Posts
President Obama Dismisses House Debt Plan, Urges Senate
President Obama: 'Now Is The Time' To Tackle
James Carville To White House: Panic (VIDEO)
President Obama To Submit His Jobs Plan To
President Obama To Unveil $300 Billion Jobs Plan
Waters: Some Black Lawmakers Are Hesitant To Criticize
Rep. James Clyburn: In Debt Deal, '12 Heads
LIVE VIDEO: President Obama Speaks To The Press,
President Obama: Deal Reached On Debt Limit (VIDEO)
Is It Too Late For Boehner To Get