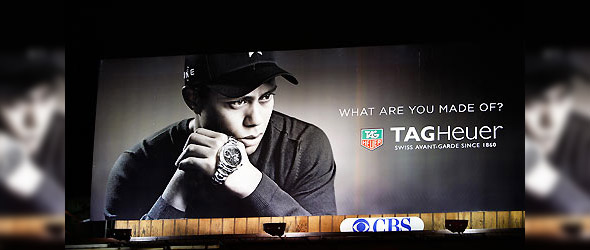 Source: AP / CBS News

GENEVA – Swiss watchmaker Tag Heuer has ended its 10-year commercial relationship with Tiger Woods, and expressed hopes the former top-ranked golfer can "overcome his difficulties."
Tag Heuer had stopped promoting Woods's image in the United States in December 2009, weeks after revelations about his marital problems began to emerge.
"We are confident that Tiger will eventually regain full trust with the public, and that his huge talent and mental strength will help him overcome his difficulties," Tag Heuer chief executive Jean-Christophe Babin said in a statement.
"We wish Tiger all the best for the future endeavors in golf, with new business partners, and in his private life."
Tag Heuer said it had enjoyed an "exemplary" partnership with Woods which had been "very beneficial to both parties."
To read this article in its entirety visti CBS News.
Sphere: Related Content
Related Posts
Tiger Woods Misses The Cut At PGA Championships
Tiger Woods Plans Return At WGC-Bridgestone Invitational (VIDEO)
Steve Williams Responds To Tiger Woods Firing: 'Loyalty
Tiger Woods' Former Caddie: Sex Scandal Made Me
Tiger Woods Out Of U.S. Open
Tiger Woods Withdraws From Players Championship
Tiger Woods' New Girlfriend? (VIDEO)
Tiger Woods On Divorce: 'It's A Sad Time'
Tiger Woods Divorce Final
Mickelson wins green jacket at Masters, Tiger ties