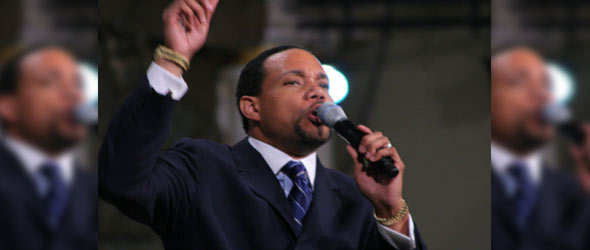 Source: Martin E. Comas / Orlando Sentinel

The Rev. Zachery Tims, senior pastor of New Destiny Christian Center, with one of the largest congregations in Central Florida, was found dead in a New York City hotel room on Sunday, several news sources reported. Tims was 42.
Dozens of people gathered in the parking lot outside the Apopka church on Sunday night, many with tears in their eyes.
"He was a great man," said Shirley Jackson, as she drove into the church property. "I had to come out here and see if it was true."
Anthony Fryer, a member for about 2 years, said he came out to the church when heard about Tims death from New York City web sites.
To read this article in its entirety visit the Orlando Sentinel.
Sphere: Related Content
Related Posts
WATCH: Religious Leaders Arrested At Capitol For Budget
'Real Housewives Of The Bible' Debuts (VIDEO)
Web Watch: Religious Leader Predicts The End Of
Radio Preacher Now Says Oct. 21 Is Definitely
WSJ: Rev. Zachery Tims Found Dead In Times
President Obama To Host Iftar Dinner Celebrating Ramadan
'Fox And Friends' Infuriated Over President Obama's Proclamation
Faith Leaders Arrested In Capitol Hill Protest To
Minister Allegedly Operating Sex And Rave Clubs As
Bishop Eddie Long Had Fifth Accuser in Sexual