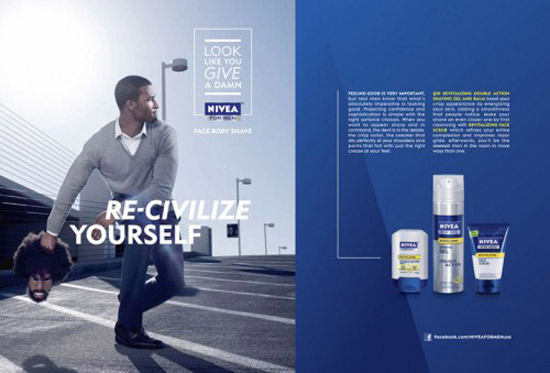 Source: Justin Fenner / Styleite.com
Black men have to deal with a lot of inextricable and damaging stereotypes, but the idea that we're savages who can't even be trusted to groom ourselves when the occasion calls for it is among the most offensive of them. And that's the very idea being supported in a new ad from Nivea, which encourages men of color to "re-civilize" themselves and "look like [they] give a damn."
The ad, which we spotted on Good not too long ago, features a smartly dressed man (white point-collar shirt, dark denim, a sweater that looks like it was knitted specifically to fit his forearms) shot-putting the decapitated head of another man who had the audacity to grow out an afro and a full beard. The message here is clear: If you're black, embracing a tonsorial style that isn't close cropped and clean-shaven will make you look like a total beast and no one will ever trust or hire you. You'd better run to CVS and get some Nivea products before your chance for a good life washes down the drain! Offensive? Absofuckinglutely. True? Not at all.
To be fair, Nivea has another ad that asks white men to "look like [they] give a damn," which features a guy in a suit holding the similarly severed head of another guy with shaggy hair and a full beard. But that ad says nothing about re-civilization. The message there seems to be that white men already have a chance to be productive members of society, and they only need to trim a little scruff off here and there to maximize their potential to do so. In other words, they're already civilized, they just don't look like it.
But black men, according to Nivea's brand messaging, are inherently uncivilized and can only become civilized if they forsake what comes out of their hair follicles naturally. And that's simply not true. Different hairstyles may communicate different things, but having a certain hairstyle (just like having a certain skin color) doesn't encode certain behavior. And that's probably the most offensive thing about this ad — it suggests that if you change how you look, you can also change who you are.
To read this article in its entirety visit Styleite.com.
Sphere: Related Content
Related Posts
Feds Join Probe Of Alleged Mississippi Hate Killing
Doug Lamborn, 'Tar Baby' Representative, Implements No-Protesting Rule
Sumter Tea Party Chairwoman Jokes About Assassinating The
Minnesota School Faces Lawsuit Over Racist 'Wigger Day'
Bronx Principal With White Supremacist Ties Fired (VIDEO)
Psychology Today Article Claims Black Women Are "Less
60 Minutes: "Huckleberry Finn" And The N-Word Debate
Arrest Made In MLK Parade Bomb Plot
Barbour Says He Won't Denounce Southern Heritage Group's
Miss. License Plate Proposed To Honor KKK Leader