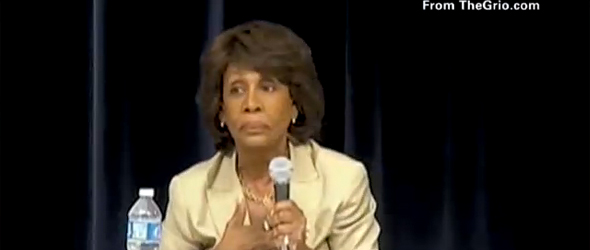 Source: CNN

Rep. Maxine Waters, D-California, questioned why President Barack Obama has not visited any black communities during his recent Midwestern bus tour, saying some black lawmakers are hesitant to criticize him.
Waters, explained to a crowd in Detroit this week, that members of the Congressional Black Caucus are hesitant to criticize Obama because they feel they may lose support from the black community.
The footage of Waters speech was posted on the Grio website, an African-American news site.
"We do not put pressure on the president because y'all love the president," Waters told the boisterous crowd. "You are very proud to have a black man as president for the very first time in the history of the United States of America. If we go after the president too hard, you are going after us."
To read this article in its entirety visit CNN.
WATCH:


Sphere: Related Content
Related Posts
President Obama Urges Business Owners To Make Investments
Black Lawmakers Afraid To Criticize POTUS In Fear
President Obama To Submit His Jobs Plan To
President Obama To Unveil $300 Billion Jobs Plan
President Obama To Tour Businesses Day After Speech
Obama Names Warren As Special Adviser (VIDEO)
Finding Jobs Despite Criminal Records (VIDEO)
James Carville To White House: Panic (VIDEO)
White House: Obama's 'American Jobs Act' Will Include
President Obama Set To Deliver September 7 Economic